Grab yourself a wee dram for our guide to the ultimate Scottish whisky tours
Whisky making is serious business in Scotland; there are more than 120 active distilleries, spread across five whisky regions. The 'water of life', as it's known, is Scotland's largest export and, it's safe to say, we've been known to enjoy a dram or two ourselves.
Crafting the golden elixir is a fascinating, but lengthy process. For a whisky to officially be called 'Scotch', it must have been aged in Scotland for at least three years and made in a manner strictly specified by the 'Scotch Whisky Regulations'. There's no half measures here!
Many distilleries offer tours and tastings so you can sample their whisky's flavours, hear from their passionate team and see where the whisky's themselves are born.
And of course, in addition to being perfectly-placed to enjoy a distillery tour, many of our Luxury Scotland member properties have spectacular and well-stocked whisky bars where you can enjoy this wonderful spirit during your stay.
So, pour a wee dram and join us on a virtual tour of the five whisky regions and some of the best distilleries to visit in Scotland.
Highland Whisky Tours
We start with the largest and most northerly region, the Highlands, which boasts a wide range of whisky distilleries including some of the famous names you'll no doubt already be familiar with. Rich in diversity, flavour and style, whiskies from this region certainly reward those who venture north.
Regional highlights
The Deanston Distillery, located close to Luxury Scotland Member, Cromlix, was originally a cotton mill, which opened its doors in 1785. It was at the forefront of new beginnings as Scotland moved from agriculture to industrialisation. When the cotton industry went into decline, the mill was converted into a distillery and the first bottle of Deanston Highland Single Malt Scotch Whisky was produced in 1974. The process begins with water from the River Teith, which flows over granite, making it very soft and perfect for making whisky. In 2012 the Deanston Distillery proudly opened its doors to its brand new visitor centre, offering tours, tastings, and access to exclusive limited editions.
Tullibardine Distillery stands proudly in the village of Blackford, also home to Luxury Scotland Member, Highland Spring. The iconic hotel, Gleneagles, is located just 3 miles away. In 1947 William Delmé-Evans began converting what had previously been a brewery into The Tullibardine Distillery. Upon testing the water from the nearby springs, Delmé-Evans knew he had found the perfect location for distilling whisky. In 1979 Highland Spring began bottling the same water.
Blair Athol Distillery is one of the oldest whisky distilleries in Scotland. It stands at the gateway to the Scottish Highlands, in the picturesque town of Pitlochry, also home to Luxury Scotland Member Fonab Castle Hotel & Spa. Blair Athol's ancient source of water – the Allt Dour – flows through the grounds from the slopes of Ben Vrackie, contributing to the whisky's quality and smooth finish.
Glen Garioch Distillery (Garioch pronounced Geery), is Scotland's most easterly distillery and is situated in the historic old town of Oldmeldrum, near Aberdeen. It was established in 1797. Only ever produced in small, precious batches, Glen Garioch is a rare find indeed, but warmly appreciated by those who like a hearty Highland malt. The perfect base for a visit, The Marcliffe Hotel and Spa is just a 40 minute drive away.
On the West coast, you'll find The Torridon in its spectacular setting at the head of a spectacular sea loch. It's also home to a whisky Bar with a superb array of 365 whiskies, and their whisky tasting experiences are, quite rightly, a favourite of their guests. 
A little further West, on the Isle of Skye, Talisker, is set on the shores of Loch Harport, with dramatic views of the Cuillins. This alluring, full-bodied single malt whisky is so easy to enjoy, and like Skye itself, so hard to leave. Kinloch Lodge, on the shore of Loch-Na-Dal, is just under an hour away and offers both whisky tasting as well as whisky and food pairing experiences.
Moving more central, 15 miles outside of Inverness, you'll find Glen Ord Distillery, Scotland's oldest distillery and the last remaining one on the Black Isle. Barley from the Black Isle meets water from the White Burn to make a Scotch of vibrant colour – The Singleton of Glen Ord. A beautifully renovated, Georgian mansion house, Rocpool Reserve, is ideally located nearby.
About 40 miles North of Inverness, you'll find Glenmorangie, the acclaimed distillery famed for smooth, rich whiskies with intriguing, complex flavours. They offer a range of tasting experiences, ideal for whisky connoisseurs. Guests of Glenmorangie House also receive a complimentary tour of the Glenmorangie Distillery visitor centre. Their Brand Home Manager, Stuart Smith, discusses the famous brand in more detail in our recent interview here.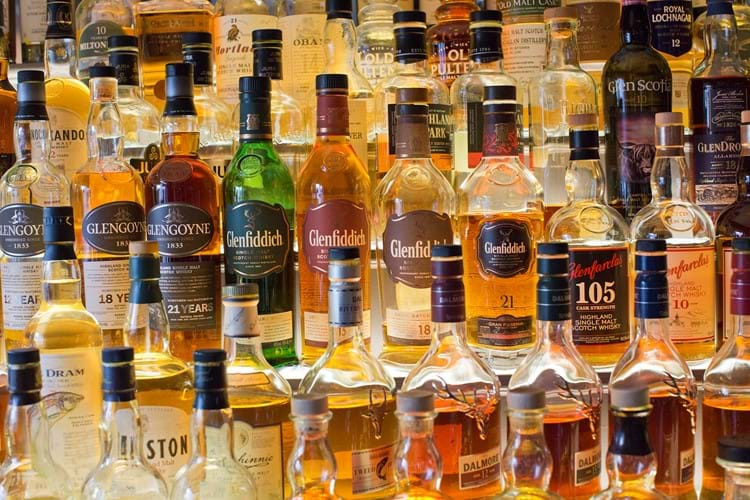 Lowland Whisky Tours
The Lowland region includes Edinburgh and the Lothians as well as Glasgow and the Clyde Valley, and therefore some of the more easily accessible distilleries in Scotland. Known for being light-bodied with sweeter and almost floral tones, malts from this region are considered an ideal introduction for those new to whisky drinking.
Regional highlights
At the top of Edinburgh's Royal Mile, you can visit The Scotch Whisky Experience, a five star visitor attraction where you can take a tour and indulge in a tasting or blending session. For a more in depth experience you can sign up to their one day Scotch Whisky Training School.
In 2021 whisky giant, Diageo, will be opening The Johnnie Walker Experience in Edinburgh's West End. The detailed plans for inside this eight-storey building are being kept a closely guarded secret, but will include a multi-sensory, immersive visitor experience, guiding people throughout the 200 year history and the flavours of Scotland. You can pre-register to visit here.
The Dunstane Houses, is a family-run, five-star boutique hotel in the west end, where you can enjoy the spirit of Orkney in Edinburgh. The owners, Shirley & Derek Mowat, grew up on Orkney and they have one of the most extensive rare-whisky selections in the city, with more than 70 varieties in their vintage wall cabinet, including a rare Highland Park. They can also arrange some great whisky tasting experiences.
Edinburgh's no. 1 hotel on TripAdvisor, Fingal, is a 5-star luxury floating hotel, berthed on the vibrant waterfront. You may well choose to tour the distilleries from the comfort of the spectacular on-board bar, The Lighthouse, that houses a single cask collection with some of the finest whiskies from around the country.
Head a little further north and you'll find Eden Mill, in St Andrews. Based on the site of a historic distillery, on the banks of the River Eden, Eden Mill was the first to make spirits in the region for 150 years and in 2018 they released the first Single Malt Whisky to be distilled in St Andrews in over 150 years. The iconic golf resort, the Old Course Hotel, is just a short 10 minute drive away.
Kingsbarns distillery, about 15 minutes' drive from St Andrews, is a family owned and operated distillery located in a restored historic farm steading, offering tours and tastings.
Finally, you have Kinross House, an exclusive use venue that has a whisky room where you can sample a wide range of premium whiskies including their own Kinross House whisky, produced by Macallan in Speyside. A whisky expert can also be arranged to take guests through a fascinating whisky tasting experience.
On Scotland's West coast, you'll find another Luxury Scotland Member, well-placed for a whisky tour in both the Campbeltown, Islay and Lowland regions. Crossbasket Castle's French-inspired Scottish cuisine and bar (with 30 whisky blends and malts) is just 20 minutes from Glasgow.
Campbeltown Whisky Tours
Scotland's smallest whisky region has just three distilleries, but still warrants a visit for those who value a malt whisky that some describe as 'fiercely enduring and distinctive'. 
Regional highlights
Glen Scotia is one of Scotland's smallest distilleries, while Springbank Whisky Distillers is the oldest independently and family owned distillery in Scotland.
The Crinan Hotel, on Argyll's rugged coastline, is very well placed to visit both Glen Scotia and Springbank Whisky Distillers at just a 1 hour and 20 minutes drive.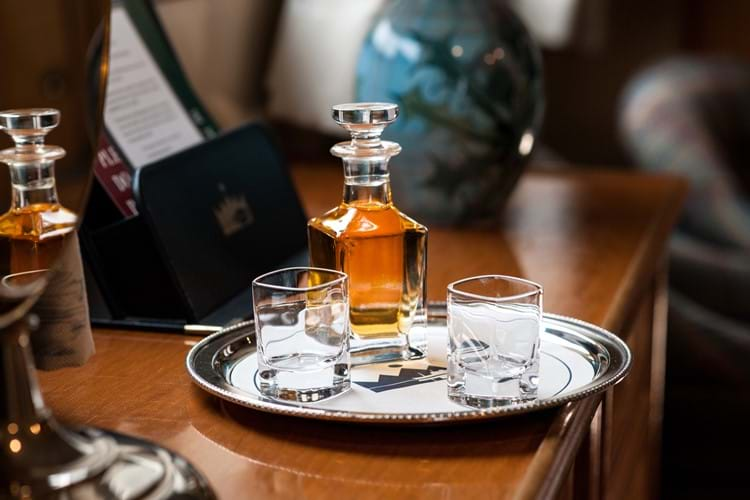 Speyside Whisky Tours
World-renowned, the Speyside whisky region in the North East of Scotland is home to over half of all distilleries in Scotland as well as the UK's only working cooperage (Speyside Cooperidge) where they craft American Oak casks that help mature whiskies in Scotland and around the world. Whiskies from Speyside tend to have smooth and refined flavours, often lighter and sweeter than other Scotch single malts.
Regional highlights
Glenlivet and Aberlour distilleries offer wonderfully in-depth tasting sessions, while Macallan offers a very modern tour of their incredible distillery and visitor centre.
Glenfiddich's Spirit of Innovation Tour takes visitors on a journey through every step in the whisky making process including their innovative and experimental releases.


Islay Whisky Tours
Islay, the island known affectionately as 'the whisky island', lies just off the Argyll coast in the West of Scotland. Despite its relatively small size, it's home to nine distilleries producing whisky with a characteristic peaty, smoky flavour.
Regional highlights
Today, Islay's distilleries are spread across the island; Bowmore, Bruichladdich and Kilchoman can be found right in the heart of the island and there are three more located next to each other, collectively known as the Kildalton Distilleries. The most recently opened Ardnahoe Distillery launched in April 2019 and Bowmore is said to be one of the oldest distilleries in Scotland, dating back to 1779.
Luxury Scotland Member, The Machrie, have organised a special whisky experience with Lagavulin Distillery. Guests can enjoy a trip to Lagavulin Distillery where they can enjoy a Core Range Tasting. Their 3-course lunch is paired with some of Islay's famous malts to provide a variance of flavours and aromas to enhance the menu.
Glenapp Castle in Ayrshire, regularly takes guests over to Islay or the Mull of Kintyre by boat to experience the whisky distilleries. Closer to Glenapp, in nearby Kirkoswald, the whisky bottlers, A.D. Rattray, have established a whisky experience where visitors can test the blends that they bottle.
Chauffer-Driven Whisky Tours with Little
Sightseeing by chauffeur-driven car is undoubtedly the best way to see Scotland. Luxury sightseeing tours are a speciality of Little's, a Luxury Scotland Partner. From bespoke tour design services to the remarkable knowledge of their touring chauffeurs, the Little's team is dedicated to creating a memorable experience for you or your clients. And with your own driver, you can enjoy your whisky tasting to the full.
Slainte Mhath!
All that remains from us is to wish you Slainte Mhath (pronounced Slanj-a-va), the traditional toast to say 'Good Health' in Gaelic, during your whisky tour of Scotland.
First published 22 September 2020. Information correct at time of going to press.