Scotland's Countless Castles
From Ruins To Riches | The Essential Castle Guide By Luxury Scotland

Scotland's Countless Castles
Boasting more than its fair share of castles thanks to a turbulent past, Scotland today can offer rich historical pickings to its many visitors. Dotted around the country are formidable strongholds set atop dramatic cliffs, tower houses in varying states of ruin, ancient artillery fortifications, moated bastions, and well-preserved medieval castles. Scotland's castles were undoubtedly well worth a tussle or two in days gone by. Today, the castles in Scotland are worth a somewhat more welcomed visit.
Choose any region in Scotland and within a few miles you're certain to come across the remains of a stronghold still clinging to the cliff edge, a medieval castle ruin perched atop a hill, a tower house not quite as towering as it was in its glory days, a well-preserved fortress sitting on a loch-side, or a magnificent castle fully intact and open to visitors year-round.
Explore Scotland's past with this, our selection of some of the most vibrant and exciting castles from our beautiful country's lengthy history.

Edinburgh Castle
It goes without saying that Edinburgh Castle is a 'must visit' attraction in Scotland.
Built on the top of an extinct volcano and the site of a royal castle since the 12th century at least, this historic monument towers above Edinburgh city and offers a year-round attraction for visitors to Scotland's capital.
From free guided tours of the castle; historical stories related by costumed performers; a museum housing more than 400 years of Scottish military history; awe-inspiring panoramic views across the capital; and the spectacle of the Edinburgh Royal Military Tattoo held every August, there is plenty to keep visitors captivated for several hours.
Nearest properties: Sheraton Grand Hotel & Spa Edinburgh (1.5 miles, 13 mins drive), Dunstane Houses (2.1 miles, 16 mins drive), Fingal (3.6 miles, 23 mins drive).


Blackness Castle
Located to the northeast of Edinburgh on the shores of the Firth of Forth and less than four miles from Linlithgow is the formidable looking Blackness Castle.
A 15th century stronghold built for one reason, war. From the towers and curtain wall of this garrison fortress and prison there are wonderful views stretching across the sea to Fife and of the road and rail bridges.
From the seaward side the daunting castle looks like a stone ship that has grounded, but the massively strengthened fortification withstood many sieges – except that of Oliver Cromwell in 1650, that is, the battle scars from which remain.
Nearest property: The Dunstane Houses, 15.1 miles, 30 mins drive.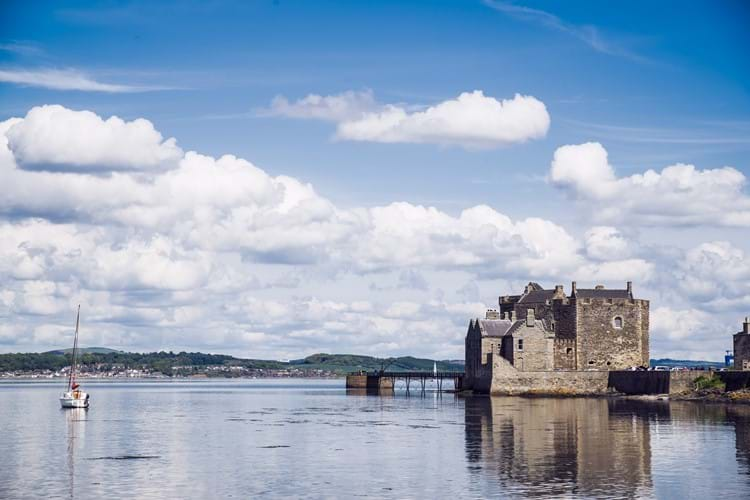 Craigmillar Castle 
Boasting a story linked to Mary Queen of Scots
The well-preserved medieval Craigmillar Castle (four miles southeast of Edinburgh Castle) offers great views over Edinburgh and Holyrood Park as well as lots of dark, mysterious nooks and crannies to explore – in particular, a grim basement prison.
The 55ft tower house is one of the oldest in Scotland, dating back to the late 14th century and features an impressive Great Hall and the 'Queen Mary's Room' where the monarch allegedly slept while staying at the castle.
Nearest Properties: Sheraton Grand Hotel & Spa Edinburgh (4.1 miles, 19 mins drive), Dunstane Houses (4.8 miles, 23 mins drive), Fingal (5.3 miles, 20 mins drive).


Caerlaverock Castle
Eight miles south of Dumfries, standing on the borders of the country for 400 years.
This quintessential medieval stronghold suffered a turbulent history (undoubtedly because of its proximity to England), playing an important part in the defence of its territory. Caerlaverock Castle, built in a unique triangular shape, still lures visitors from across the globe to its impressive offerings.
Featuring a moat, twin-towered gatehouse, a siege warfare exhibition and a children's adventure park, this Scottish castle is the perfect day trip for young families looking to steep themselves in the history of Scotland.
Nearest Property: SCHLOSS Roxburghe Hotel & Golf Course, 75.5 miles, 1hr 55min drive.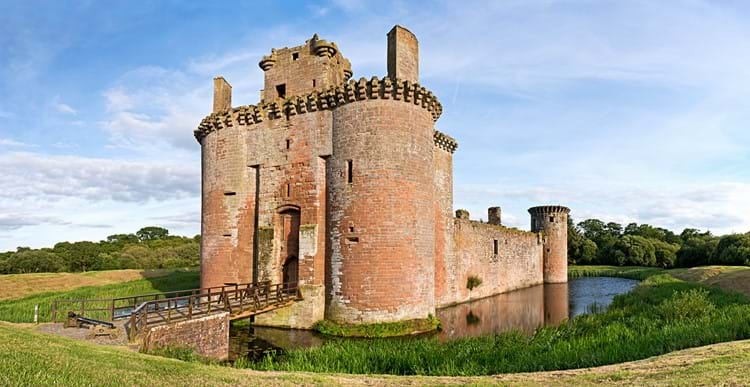 Cardoness Castle
From the battlements of this well-preserved six-storey tower house are splendid views over Fleet Bay to the Solway Firth.
Dating back to the late-15th century, Cardoness Castle was primarily built as a family residence by a prominent Galloway family notorious for their lawlessness and long-standing bitter feud with their neighbours. The walls are 8ft thick and window openings are small to provide protective covering for the castle inhabitants. With ground floor walls pierced by gun holes, it's clear that this infamous castle has had an interesting and often violent history.
Nearest Property: Knockinaam Lodge, 45.2 miles, 1hr drive.


Craignethan Castle
Dating back to around 1530 and located in the fine setting of the rolling Clydesdale hills just 24 miles southeast of Glasgow lies Craignethan Castle.
This important and unusual early artillery fortification features a rare stone vaulted artillery chamber, a caponier of which there is only one other in Scotland (Blackness Castle) and an exceptional tower house where King James V and his court were known to have entertained.
Craignethan Castle also has the added benefit of a nature trail found in the nearby deep glen, perfect for those looking to stretch their legs after learning some of the rich history behind Scotland's Castles.
Nearest Property: Crossbasket Castle, 17.3 miles, 39 mins drive.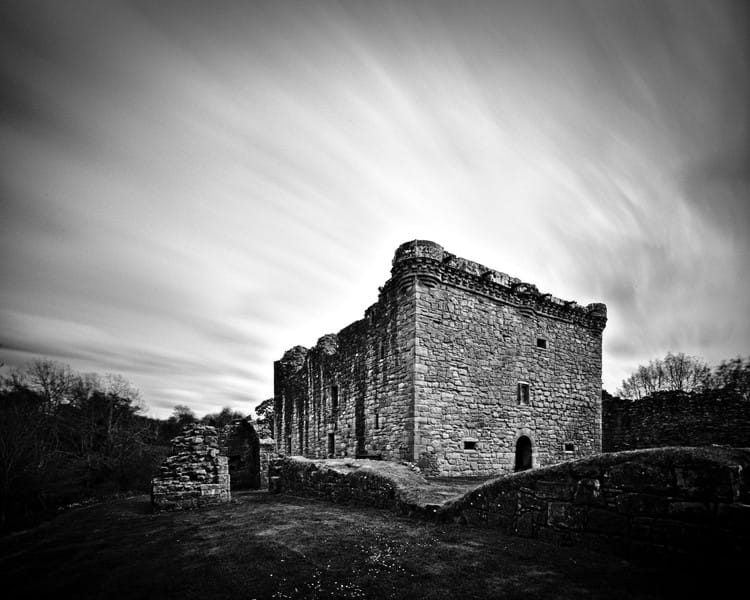 Crossbasket Castle 
Newly renovated with the utmost care and passion, Crossbasket Castle has been transformed into one of Scotland's most luxurious Castle hotels.
Dating back to the 17th century, Crossbasket Castle is steeped in history and offers a unique experience for those looking to truly delve into Scotland's past. Lovingly renovated to restore unique period features to their original beauty using traditional craftsmen and materials, a stay at Crossbasket Castle is one that can be matched by few places in the world, let alone Scotland.
The perfect luxury retreat for peace and tranquillity, enjoy a stay here to be transported back in time and experience life in an authentic 17th century castle, while still enjoying luxury amenities such as the fine-dining restaurant overseen by the legendary French chef Albert Roux and son Michel Roux Jr.
Nearest Property: Stay here!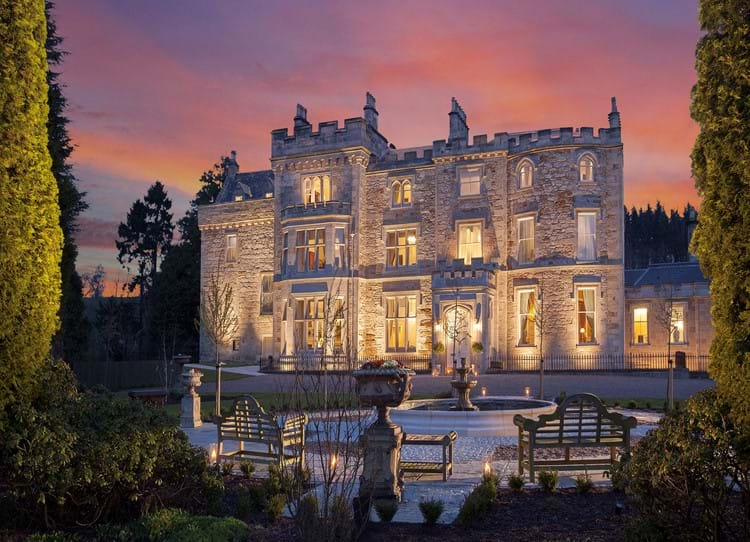 Culzean Castle & Country Park
One of Scotland's most loved castles, this iconic cliff-top masterpiece rises above a world of woods, beaches, secret follies and more.
Once the playground of David Kennedy, 10th Earl of Cassilis, Culzean Castle reflects his desire to use wealth and status to impress others. Opulent to the extreme, this 18th century masterpiece designed by Robert Adam boasts extensive grounds mixing a sculpted coastline with conifer and beech forests, perfect for hiding the many eccentricities of its owner such as a swan pond, ice-house, flamboyant formal gardens and fruit-filled glass houses.
Perched on the Ayrshire cliffs, Culzean Castle is packed with treasures sure to interest all who visit. Perhaps the most special treasure of all however, is its iconic oval staircase, the dramatic centrepiece of the castle that gives this extravagant wonder it's charm.
Nearest Property: Crossbasket Castle, 48.9 miles, 1Hr 9 mins drive.

Dumbarton Castle 
Sitting on a volcanic rock just 14 miles from Glasgow, Dumbarton Castle soaks up stunning views for miles around.
First built in the early 13th century, Dumbarton Castle was a border stronghold when the Norwegian Frontier was only 10 miles away. The Battle of Largs (1263) successfully removed any threat from Norway, but England then became a bigger, more perilous enemy.
With superb examples of 18th century Georgian military architecture present in the artillery fortifications, this castle has seen much in the way of war – most recently in the second world war.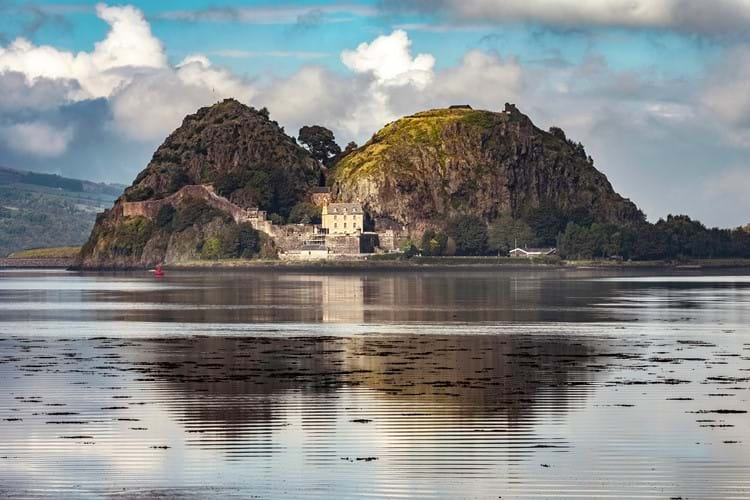 Aberdour Castle & Garden
With three noble families inhabiting these grounds over a 500-year span, Aberdour castle is steeped in a long history that remains largely undiscovered.
Thought to be the oldest standing masonry castle in Scotland, Aberdour Castle is believed to have been built in the 12th century before being extended and modified from the 15th century to the 17th.
Highlights include the 12th century Hall House, a carefully hand painted ceiling dating back hundreds of years, and the stunning walled gardens featuring a beehive-shaped dovecot.
Nearest Property: Kinross House Estate, 14.1 miles, 29 mins drive.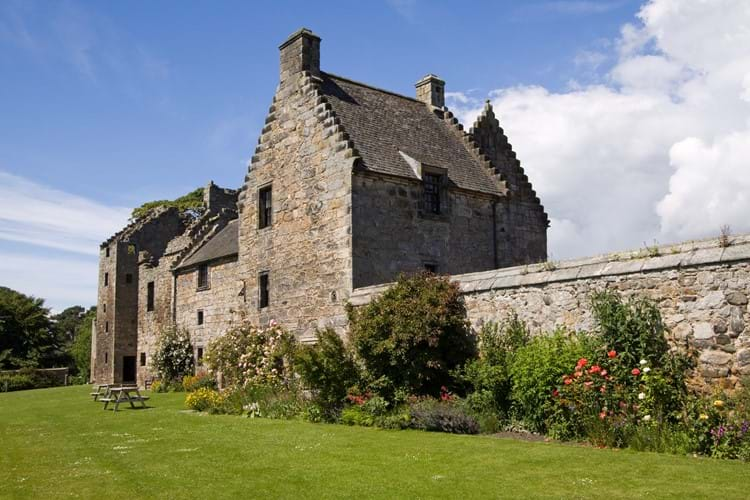 St Andrews Castle  
Hugging the shoreline of St Andrews, these impressive ruins offer a unique insight into the long and bloody history of Scotland.
With unique underground passages used to fend off feudal sieges, St Andrews Castle was often caught in the crossfire of skirmishes across Scotland, including the Protestant Reformation struggle for hearts and minds.
Acting as a Bishop's Palace, a fortress and a state prison during its 450-year history, these humble ruins contain some of Scotland's most infamous sights, such as the underground 16th-century siege mine and counter-mine, as well as the 'bottle mine' – a prison cut out of the solid rock that played host to Scottish Minister John Knox.
This incredible piece of Scotland's history is not to be missed.
Nearest Property: Old Course Hotel, Golf Resort & Spa, 1 mile, 6 Min drive.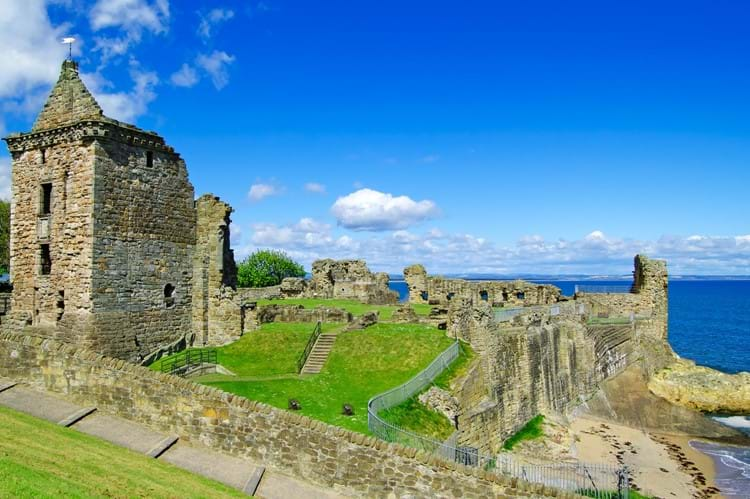 Brodie Castle    
The ancestral home of the Brodie clan for over 400 Years, this grand 16th century castle is now in the caring hands of the National Trust for Scotland.
Visit Brodie castle to discover an impressive art collection, decorative ceilings and fine furniture as well the beautifully landscaped garden, nature trail and The Playful Garden – a brand-new family attraction.
Originally erected in 1567, this rose-coloured, turreted castle stands on land confirmed to the Brodies by Robert the Bruce and offers a unique insight into how times changed the shape and purpose of many Scottish castles – an example of which is the impenetrable 16th century guard chamber, flanked by a cosy 17th century wing and a sprawling Victorian extension. Filled with priceless antiques, unusual artefacts and stunning artworks, the castles rooms, passageways and towers are treasure troves waiting to be discovered.
Nearest Property: Glenmorangie House, 58 miles, 1hr 20 mins drive.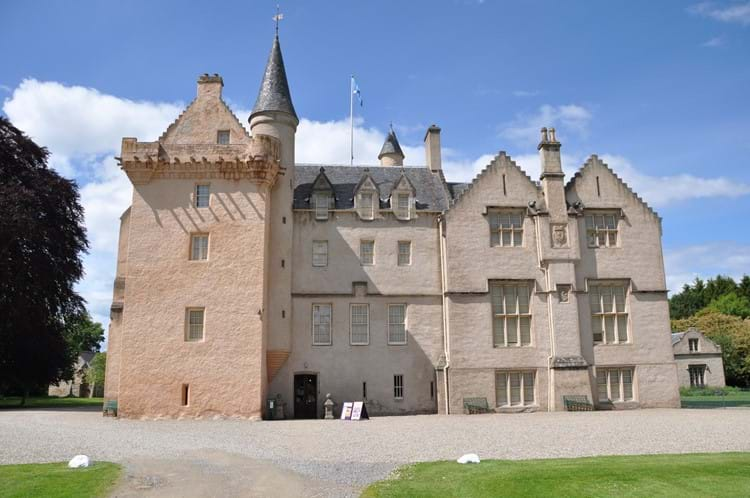 Huntly Castle
The fine architecture and location will not fail to impress at this Castle that played Baronial residence for five centuries.
Built in the 12th century, this incredible historical site now sadly sits in ruins, but there is still plenty to explore – from the 12th century Motte to the palace block erected by the Gordon family in the 1500's.
Huntly castle is a must-see for all architecture buffs as the details and heraldic enrichments included in the design are particularly impressive and set it apart from many of Scotland's castles.
Nearest Property:  The Marcliffe Hotel & Spa, 44.9 miles, 1hr 9 mins drive.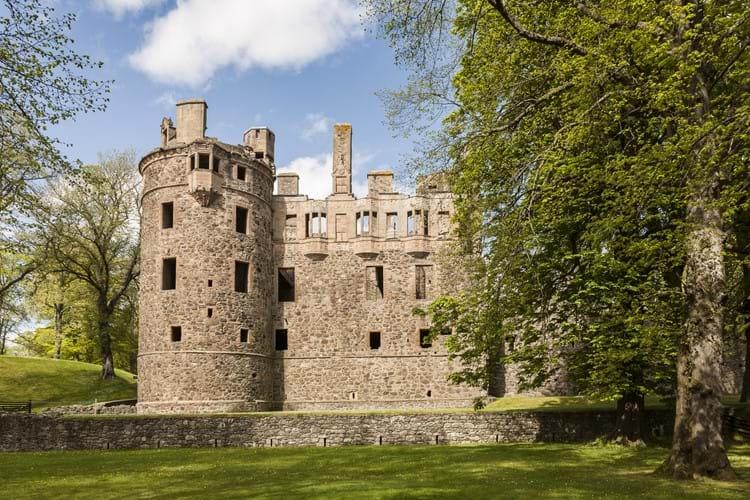 Tolquhon Castle 
A picturesque castle found just 17 miles from Aberdeen; this humble estate played host to nobles for over 300 years.
Featuring an impressive ornate gatehouse; a secret compartment below the bedroom floor where valuables were once hidden and interesting below-stairs rooms and upstairs family rooms, there is plenty to explore during a trip to Tolquhon Castle.
While Aberdeenshire is blessed with a fine collection of castles, this one sets itself apart from the crowd with beautiful grounds and stunning architecture that simply cannot be missed.
Nearest Property: The Marcliffe Hotel & Spa, 21.5 miles, 45 mins drive.

Crathes Castle 
Fantastic gargoyles, fairy-tale turrets, painted ceilings and more await you at this classic Scottish castle.
Standing against a backdrop of rolling hills stands Crathes Castle, an iconic Scottish tower house surrounded by glorious gardens that only hint at the delights to be found inside. Artefacts of major historical significance, such as the Horn of Leys that was given in 1323 by Robert the Bruce, can be found inside – as well as a beautiful painted ceiling dating back to the 16th century.
With six woodland trails to follow in the estate grounds, plus exciting treetop adventures for the whole family to enjoy at the nearby 'Go Ape!', this Historical site is a great day out for families looking to entertain the young ones and discover Scotland's rich past.
Nearest Property: The Marcliffe Hotel & Spa, 13.8 miles, 31 mins drive.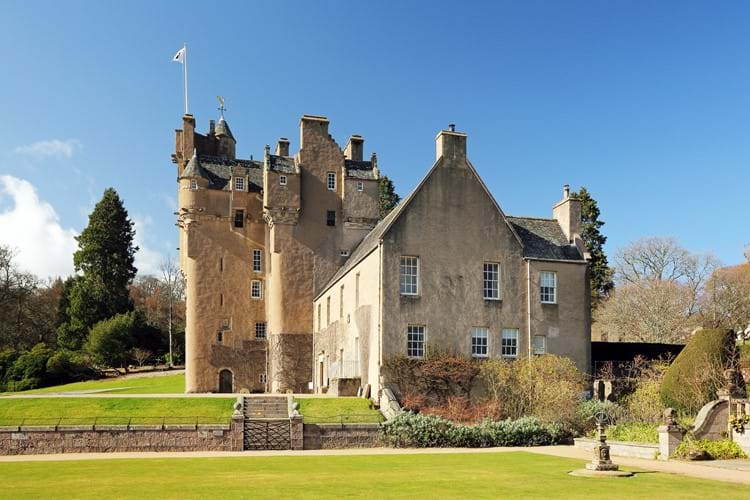 Urquhart Castle 
Sitting on the banks of Loch Ness, Urguhart Castle still gives the impression of being an imposing stronghold despite being in ruins.
A medieval fortress for 500 years with a predominantly bloody history, Urquhart was one of Scotland's largest castles and played a prominent part in the Scottish struggle for independence, witnessing many a battle with the ruthless Macdonald clan as well as the English.
Discover a thousand years of drama and experience a glimpse of medieval life at this clifftop fortress that has survived throughout the ages.
Nearest Property: Rocpool Reserve and Chez Roux, 17.2 miles, 32 mins drive.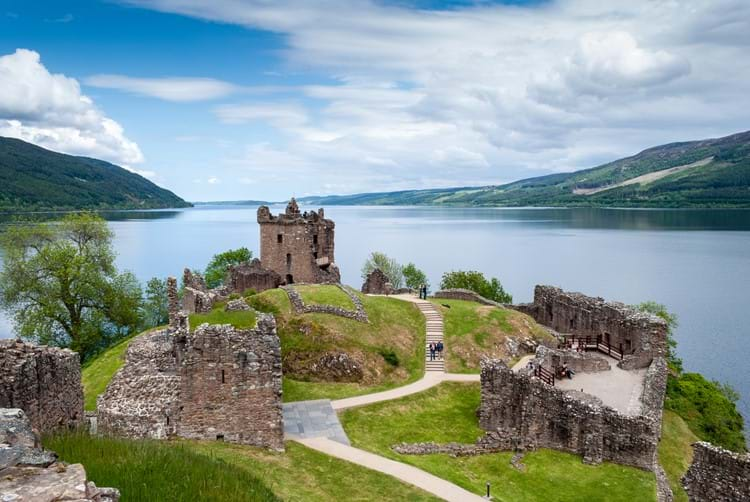 Castle Fraser Garden & Estate 
Reminiscent of a French Chateau, this elaborate Z-shaped castle has a core that possibly dates back as far as the 1450's.
Home of the Fraser family for more than 400 years, this unique and quirky castle set just outside Aberdeen contains everything from 18th & 19th century carpets, curtains and bed hangings to hidden trapdoors, secret stairs and a spy hole.
Perfect for the curious explorer, Castle Fraser contains many a hidden treasure just waiting to be discovered. You'll have to be quick though, as the castle closes at the end of October each year – but the estate is open year-round where you can treat yourself to a relaxing forest walk or play with little ones in woodland play area.
Nearest Property: Marcliffe Hotel & Spa, 15.3 miles, 30 mins drive.
<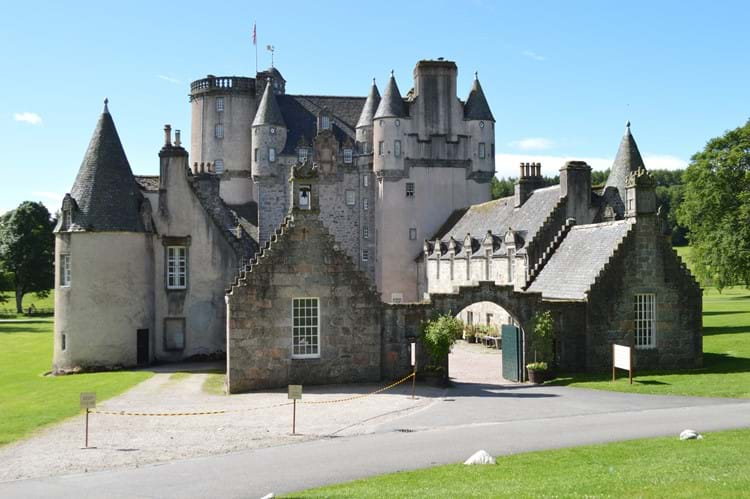 Glenapp Castle 
Despite only being built in the late 19th century, this beautiful castle-turned-hotel offers a unique step back into its magnificent past.
Almost 150 years old, this striking castle was rescued from disrepair by the McMillan family and transformed from ruins to riches with an incredible refurbishment that took six years to complete. Now known as one of the finest luxury castle hotels in Scotland, Glenapp Castle perfectly combines the history of Scotland with the utmost in luxury accommodation.
Nearest Property: Stay Here!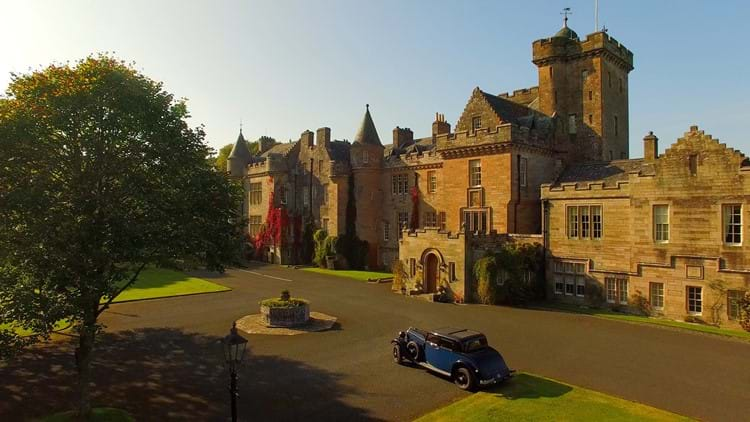 Edzell Castle  
Dating back to the 16th century, this red sandstone gem is a truly unique experience for any visitor.
While the castle may lay in ruins from years of neglect and battling the elements, the walled garden – created in 1604 by Sir David Lindsay - is a stunning sight to behold.
Edzell Castle played home to the Lindsay's, a gifted noble family who rose to be one of the most powerful in the realm yet suffered tragedy throughout their lives. Hosting such iconic guests as Mary Queen of Scots in 1562 and her son James VI in 1580 and 1589, Edzell Castle is a historical marvel that you cannot afford to miss.
Nearest Property: Marcliffe Hotel & Spa, 41 miles, 51 mins drive.

Castle Campbell and Garden
Set 14 miles from Stirling above Dollar Glen, this dramatically located castle will not disappoint travellers looking for stunning views.
Featuring one of the best-preserved tower houses in Scotland and dating back to the 15TH century, Castle Campbell was the lowland stronghold of the influential Campbell earls of Argyll and has connections with important historical figures such as Mary Queen of Scots and Scottish minister John Knox.
Highlights include the loggia in the east range, John Knox's Pulpit in the garden, and the incredible works created by local historians that document this Castle's colourful past.
Nearest Property: Kinross House Estate, 12.8 miles, 28 mins drive. Gleneagles Hotel, 14.9 miles, 30 mins drive.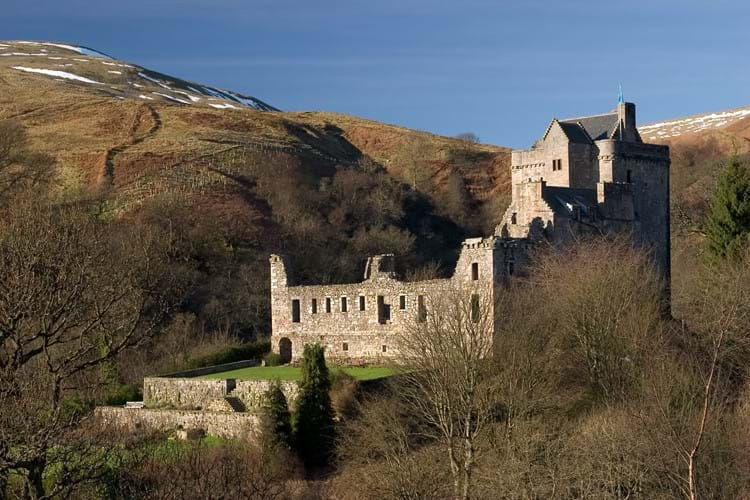 Stirling Castle 
In the heart of Stirling, towering over important battlefields of the past sits Stirling Castle.
With a commanding view of the countryside for miles around, the imposing Stirling Castle's architecture truly sets it aside as one of Scotland's grandest castles.
Within the castle sits the largest medieval banqueting hall ever constructed in Scotland, supported by great kitchens where lavish banquets were created for Knights, nobles and foreign ambassadors. Filled with activities for young and old visitors, Stirling Castle comes alive with the help of the many costumed characters assuming the roles of bodyguards, court officials, maids of honour and more.
Nearest Property: Cromlix, 10.7 miles, 21 mins drive.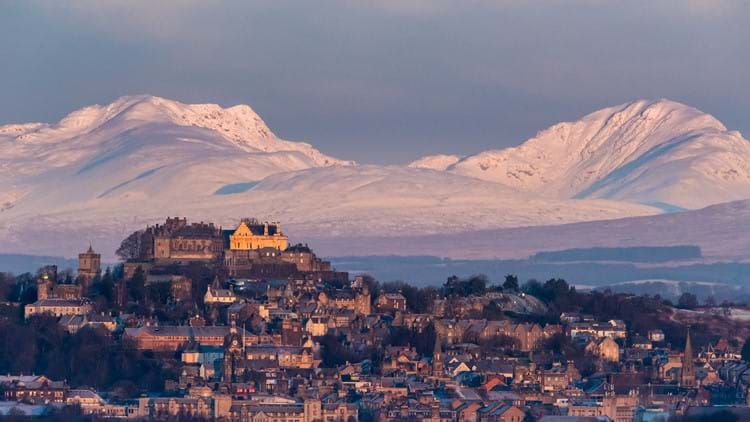 Carnasserie Castle
The former home of the first protestant Bishop of the Isles, Carnasserie Castle may now stand in ruins, but the beauty of its grandeur has not been lost over the centuries.
Built in the 15th century by the reforming churchman John Carswell and having undergone only minor alterations in the late 17th century, Carnasserie Castle is an incredibly well-preserved example of this period's architecture.
Resting on a hilltop overlooking Kilmartin Glen, this stunning ruin comprises a five-story tower house, an impressive banquet hall, Renaissance masonry and much more. Blown up during the Monmouth Rebellion in 1685 by Royalist Forces, the castle fell into disuse for a number of years before being purchased by the Malcolm's of Poltalloch in the 19th Century. Visit this impressive castle for a unique window into Scotland's varied and tumultuous past.
Nearest Property: Crinan Hotel, 8.3 miles, 21 mins drive.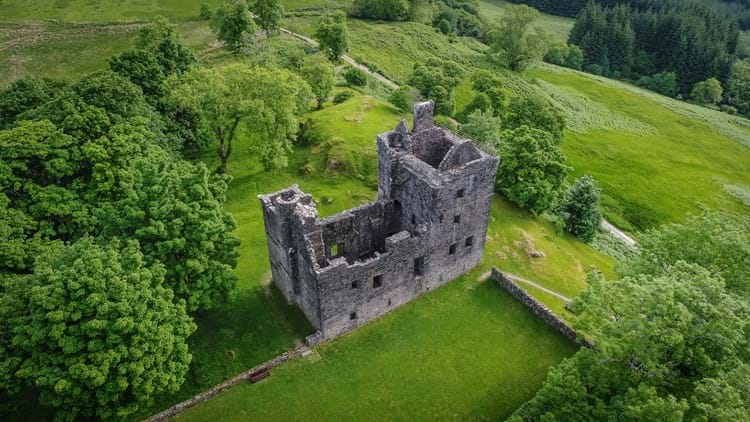 Working Castles
Scotland is full of many castles, each with its own incredible history just waiting to be discovered. We must not forget, however, today's working castles – those rather grand Scottish castles that are just as perfect for an overnight stay, corporate event hire or wedding as they are for discovering our beautiful country's unique and often colourful history. For a unique stay in Scotland that you won't soon forget, we recommend a stay at our incredible partners, Fonab Castle, Crossbasket Castle or Glenapp Castle.
To see is to believe, so visit Scotland to explore its historical sights and you'll soon understand why this country can rightly boast about it's myriad of castles. Whether full of rich offerings and unique sights, or left to fall to ruin, every castle has its own story just waiting to be discovered – come find out for yourself.
First published 17 January 2020. Information correct at time of going to press.