Six of Scotland's loveliest walks
Scotland is home to some of the world's most inspiring and beautiful walking routes. Whether it's wandering along wild and windswept shoreline, traipsing across awe-inspiring mountain terrain, or embarking on a soul-soothing stroll through the prettiest parts of the capital, there's no better way to explore this country's magnificent scenery than on foot.
So, to help you plan your next ramble, we've highlighted some of our favourite walks, suited to a range of ability levels. Read on to discover some family-friendly excursions, a couple of longer, more challenging hikes and a few routes that even take you up into the clouds!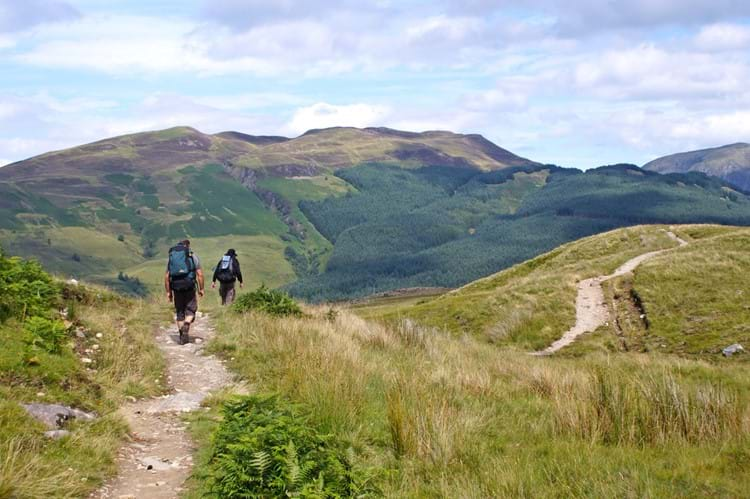 The West Highland Way
Distance 96 miles.
Time: Between 5 and 7 days.
The West Highland Way is one of the most popular and spectacular long-distance trails in Scotland. Starting in the town of Milngavie, in East Dunbartonshire, and finishing in the picturesque town of Fort William, the route takes in a huge variety of scenery, from countryside fields and forests to loch shores and from open moorlands to rugged mountains. 
Just a few of the iconic attractions you'll encounter along the way include Loch Lomond, Ben Lomond, Glen Falloch, Strathfillan, Rannoch Moor, Buachaille Etive Mor, Glencoe, the Devil's Staircase, Loch Leven, Lairigmor and Glen Nevis. 
Nearby Luxury Scotland hotels: 
Crossbasket Castle, near Glasgow.
Inverlochy Castle Hotel, Fort William.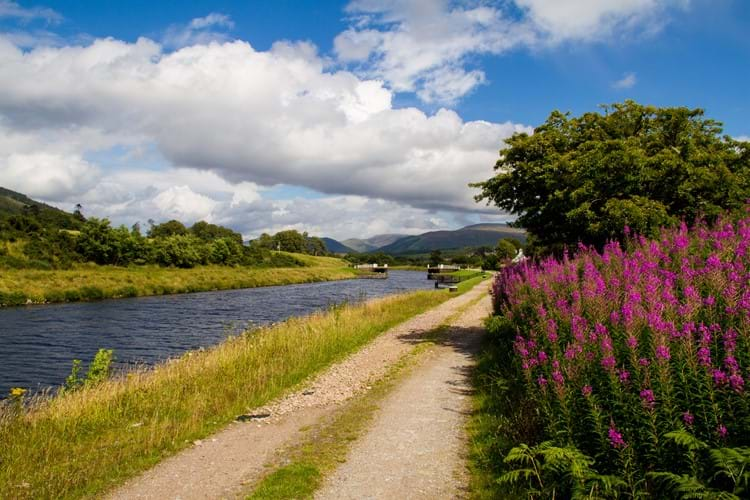 The Great Glen Way
Distance: 79 miles
Time: Between 4 and 7 days.
One of Scotland's most scenic walks, this beautiful route stretches from Fort William in the southwest to Inverness in the northeast. 
Starting (or ending) in Fort William in the shadow of Britain's highest mountain, Ben Nevis, the route traces the country's greatest geological fault. The majority of the Great Glen Way follows canal towpaths, forest tracks and roads, although there are a few challenging sections. 
More experienced walkers have the option of tackling a few Munros or Corbetts along the way. On a good day wildlife watchers can spot osprey, golden eagles, red kites, pine martens and deer.
Nearby Luxury Scotland hotels:
Inverlochy Castle Hotel, Fort William.
Rocpool Reserve Hotel, Inverness.
The Water of Leith
Distance: 12.5 miles – but you can stop wherever you want.
Time: 4 hours.
A lovely waterside walk through the heart of Edinburgh and beyond, the Water of Leith route is flat, making it ideal for leisurely walkers, especially families. The beauty of this river path is that you can walk the full 12 miles or so, or just stroll along part of it, popping out in different parts of the city for a coffee or bite to eat. 
Access the start of the walk at Balerno School on Bridge Road. From here, the path takes you through Currie, Juniper Green and Colinton Dell. Next you come to Slateford where you can explore the Water of Leith visitor attraction. 
The path then winds through Saughton to Murrayfield and onto the scenic Dean Village before the finish point near the bustling Port of Leith.
Nearby Luxury Scotland hotels: 
Fingal, Edinburgh.
Sheraton Grand Hotel & Spa Edinburgh.
The Roseate, Edinburgh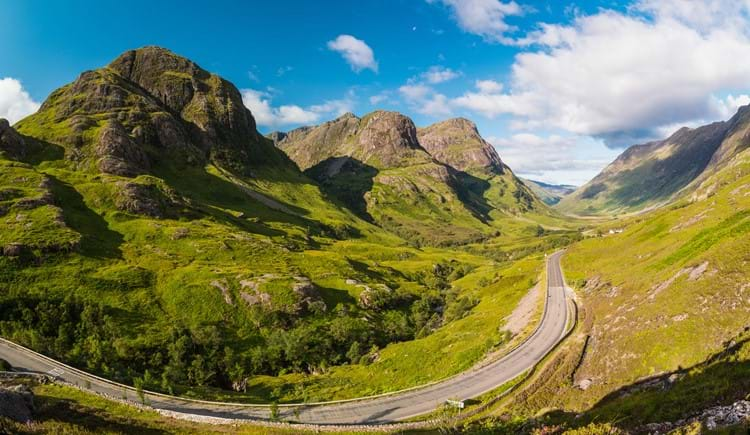 Coire Gabhail, Glencoe
Distance: 2.5 miles
Time: 2-3 hours
Looking for more of a challenge? Seek out the hidden valley of Coire Gabhail, where, legend has it, the MacDonalds of Glencoe once hid their stolen cattle. 
This steep and rocky route wends its way between two of the three sisters mountains, Gearr Aonach and Beinn Fhada, and is best attempted in the summer months when the ground is less likely to be covered in ice. Even then, the route involves some scrambling and will demand a decent level of physical fitness. 
Along the way, you'll see mighty rock walls and experience a dramatic crossing of the River Coe before the route culminates in the hauntingly beautiful lost valley. Take some time to admire the colossal fallen rocks strewn about this desolate spot before returning by the same path. 
Nearby Luxury Scotland hotels: 
Glencoe House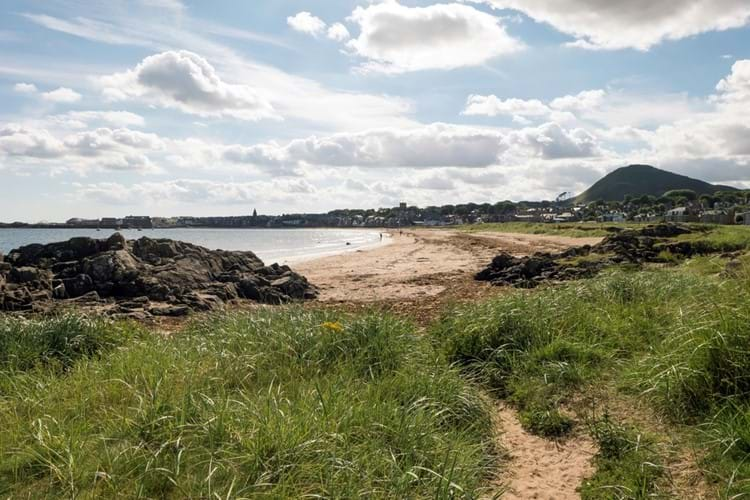 The John Muir Way
Distance: 134 miles
Time: Between 9 and 11 days.
Feel the sea breeze in your hair with Scotland's scenic coast-to-coast route, the John Muir Way. This well-maintained footpath runs from Helensburgh in the west of Scotland to Dunbar in the east.  
Opened to the public in 2014, the trail is named after John Muir, the famous conservationist and founder of America's National Parks, who was born in Dunbar. It features a wide range of scenery, taking walkers through historic canals, rolling farmland, dense woodland, country parks, and dramatic coastline. It's often tackled in short sections or broken up into walks that can easily be accomplished in a day. 
Nearby Luxury Scotland hotels: 
Crossbasket Castle, near Glasgow.
Fingal, Edinburgh.
Sheraton Grand Hotel & Spa Edinburgh.
Greywalls Hotel, East Lothian.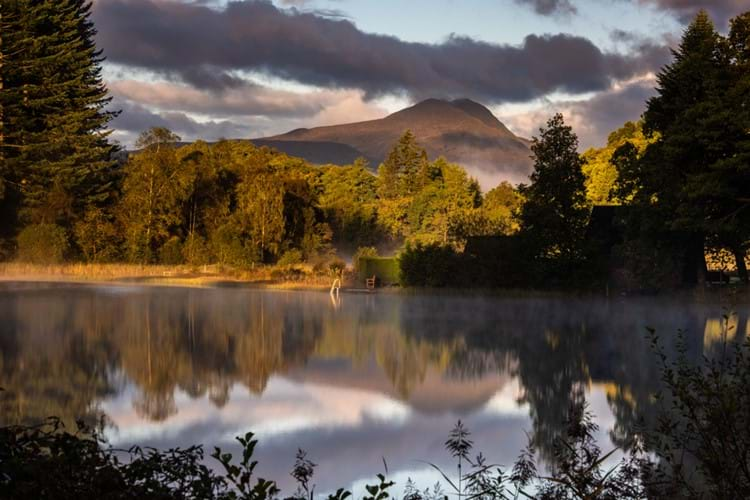 Ben Lomond
Time: On average from 5 to 6 hours.
Distance: 7 miles up and down.
Scotland's most southerly Munro, Ben Lomond is widely considered one of the best peaks to start with. Standing at 3,195ft, it has a clear path that gradually rises to the summit and once you've made it to the top, you're rewarded with a spectacular birds' eye view of Loch Lomond. 
From its slopes you can admire a large area of Atlantic oak woodland that surrounds much of the loch and covers many of its islands. Ben Lomond is a designated SSSI (Site of Special Scientific Interest) with species that include black grouse, ptarmigan, upland waders, eagle, pine marten, red deer, mountain hare and water vole.
Nearby Luxury Scotland hotels: 
Cromlix, Stirlingshire.
Crossbasket Castle, near Glasgow.
First published 30 June 2020. Information correct at time of going to press.