Eight Stunning Hotels on Scotland's West Coastline
The perfect introduction to a Luxury Scotland vacation, we invite you to explore several west coast gems for a glorious getaway.
In the south-west corner of Scotland in a rocky cove surrounded by high gorse-covered cliffs is Knockinaam Lodge. With thirty acres of gardens and lawns sweeping down to the seashore, this grey stone and whitewashed Victorian country house enjoys a secluded, serene location on the water's edge overlooking the Irish Sea. Their ten romantic bedrooms are individually designed, many with vintage bathrooms and sea views. Along with exploring the hotel's gardens and beaches, guests can enjoy fishing, golfing, hill walks and pony trekking, as well as visits to Drumlanrig and Culzean Castles.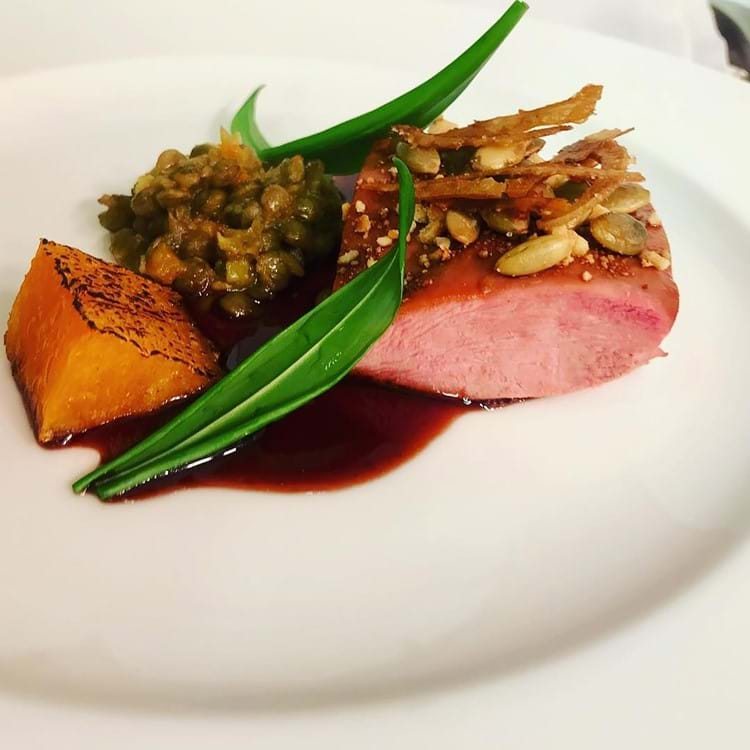 Dining at Knockinaam
Knockinamm Lodge is famed for the celebrated menus that are focussed on seasonal local produce, much of which is sourced from their kitchen garden. They offer a four-course menu at lunchtime and at dinner guests can enjoy canapés with drinks in the Bar before sampling the superb five-course menu which currently features Galloway lamb and venison from around Loch Trool or Lochmaben. All of the fish is line-caught and landed locally. Complete the perfect evening with coffee and petits fours in the drawing-room or a nightcap in the Whisky Bar.
Glenapp Castle is a true hidden gem. Set in a spectacular location just a few miles from the coast in Ayrshire, it boasts stunning seascapes, perfect for couples, family and friends. As an award-winning five-star Scottish castle hotel, Glenapp Castle offers discreet service, a host of activities and an exciting choice of dining options. This is a place to inspire and recharge. 
There are seventeen guest rooms at Glenapp Castle, all individually designed and beautifully furnished to the same high standard. Ground floor rooms face the garden and woodlands, while the first and second floor rooms are spacious with sea views. With Glenapp's splendid gardens and forest areas, rugged beaches, golf courses nearby, a local coastal spa, and thousands of acres of countryside, there's no shortage of activities. Boat charters take guests on discovery trips to the Mull of Kintyre, the Isle of Arran or Ailsa Craig, famous for its bird sanctuary and castle ruins.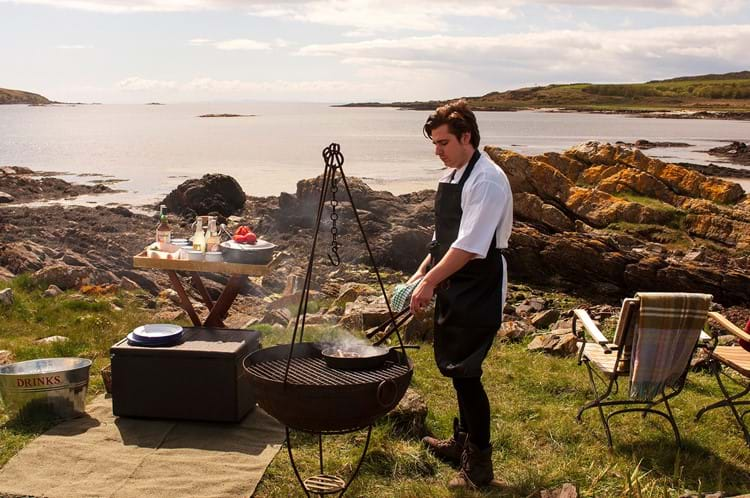 Dining at Glenapp Castle
Indulge in a delightful afternoon tea, enjoy a three-course 'Taste of Glenapp' gourmet dinner or opt for the six-course dining experience in any of their elegant dining rooms. To finish off your meal we recommend savouring one (or two) malt whiskies while watching the sunset over Ailsa Craig and the Mull of Kintyre.
You can't eat or sleep closer to the sea than at Crinan Hotel in a picturesque fishing village on the Argyll coastline at the north end of the Crinan Canal. This is where Loch Crinan opens into the Sound of Jura – the gateway to the isles of Islay and Jura and the rest of the Inner Hebrides.
Wonderful food, accommodation and a warm welcome have made this outpost famous. Travelling by car from Loch Lomond to Inverary, down the shores of Loch Fyne to Lochgilphead is a superb and memorable drive. There is plenty to do during your stay, including canal or woodland walks, a visit to the historic standing stones at Kilmartin Glen, or perhaps boat trips and expeditions to the islands for the adventurous. The infamous Corryvreckan whirlpool is a sight to behold and you may also encounter sea eagles, dolphins, seals and a wide variety of other wildlife.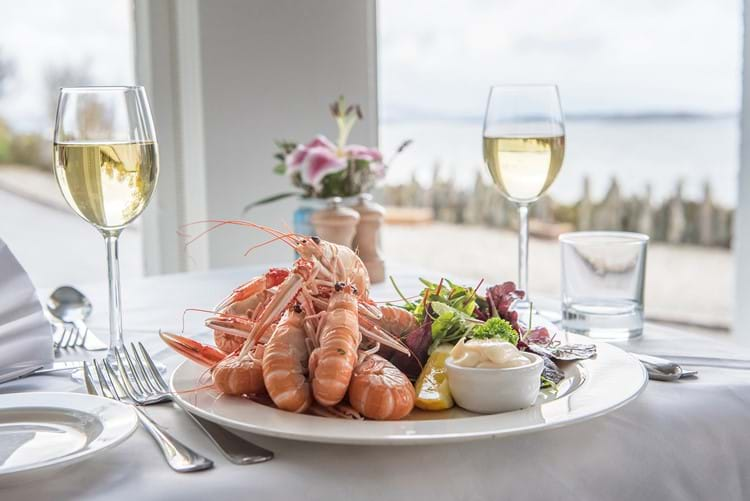 Dining at Crinan Hotel
The catch of the day lands at the pier just steps from the hotel, direct from the fishing boat in time for dinner. Savour fresh jumbo prawns, crab, Kintyre lobster, scallops and mussels from the seasonal menu, which also includes locally sourced beef and lamb. There are several dining options at Crinan, take your pick from the Michelin-Recommended Westward Restaurant, the popular Crinan Seafood Bar or their pub, The General's Bar. There is also a delightful Coffee Shop adjacent to the Canal Basin serving delicious home baking fresh from the Hotel's kitchen.
Head north from Oban towards Fort William along the tranquil coastal road to Port Appin and you will find the welcoming lights and blazing fires of Airds Hotel on the banks of Loch Linnhe. The Airds boasts a location amongst some of the most beautiful scenery in the Scottish Highlands and travellers come from afar to experience the atmosphere of Port Appin. With just 11 bedrooms and suites and 2 self-catering cottages, this luxury hotel has everything you could want for a relaxing break in the Scottish Highlands.
Guests can simply relax in the lounges or garden, or for the more adventurous, take in some of the best walking and cycling on the west coast. Alternatively, take in a tour of the private Stalker Castle just down the road, set on its own islet in the middle of the loch and famed for its appearance in Monty Python. You might also like to sample a wee dram at the renowned Oban Distillery. From Port Appin you can take the passenger ferry over to the island of Lismore and explore on bike or take the fascinating Lismore Land Rover Safari. Further afield, you can take day trips to Inverary or Mull and Iona, and Glencoe is also only half an hour's drive away.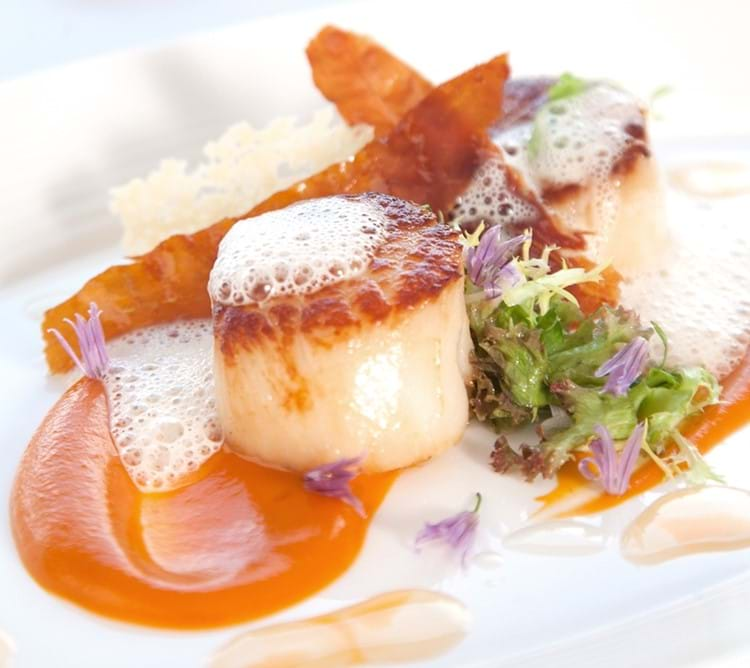 Dining at Airds Hotel
The Airds Hotel offers a romantic atmosphere and stunning views. The menu is based on seasonal local produce, with highlights like locally-hand-dived seared scallops, langoustines, organic salmon, Loch Linnhe crab and Highland venison, served with freshly picked vegetables from the kitchen garden.
Kinloch Lodge sits on the southern tip of the Isle of Skye, nestled at the foot of Kinloch Hill. Guests delight in the exquisite local produce, memorable dining, roaring fires, whisky on tap and huge comfortable beds. The island is an outdoor adventure playground especially for hill climbing up the Cuillins, the dramatic craggy mountain range which dominates the landscape. If that sounds too energetic, there are superb nature walks near the hotel along a waymarked drovers' path through woodland and lochside to the ruins of a former village, Leitir Fura – you might spot eagles, birds and wildlife along the way. The Lodge is steeped in heritage and exemplifies all the traditions of warm highland hospitality. The bedrooms are individually decorated in colours and textures chosen to reflect Skye's distinctive landscape. The elegant drawing rooms at Kinloch Lodge provide an ideal setting for afternoon tea or pre-dinner drinks or a nightcap to complete the perfect day.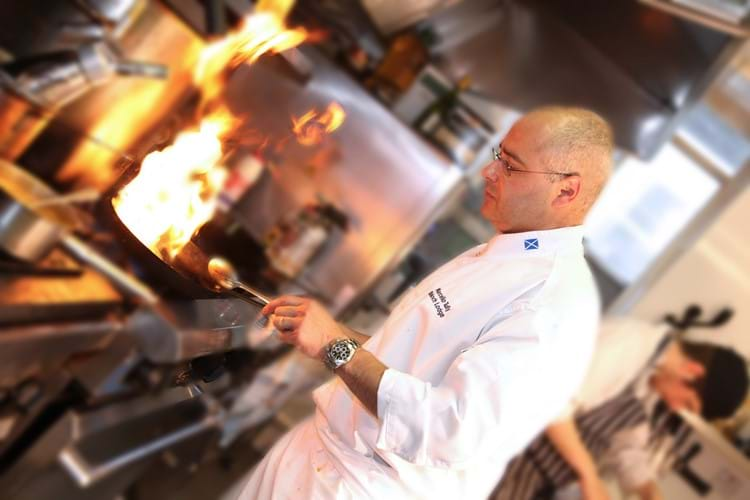 Dining at Kinloch Lodge
Food is the crowning glory of the Kinloch Lodge experience. Chef Director Marcello Tully's cooking style, Brazilian heritage, classical Roux-brothers training and passion for the Highlands of Scotland are echoed in the food. Guests enjoy inventive dishes to show off produce sourced directly from the Highlands and Islands. The gourmet tasting menu offers wine or whisky flights to complement each course.
The Isle of Eriska Hotel, Spa and Island
On a private island on Scotland's west coast sits the Isle of Eriska Hotel, Spa and Island. This 19th-century mansion, built in Scottish baronial style, is set in serene west highland scenery, on a private tidal Island at the entrance of Loch Creran on the west coast of Scotland. This is a conservation area of extraordinary natural beauty. Set in just over 300 acres, Eriska has everything for a truly relaxing, leisurely break, with an award-winning spa and one of Scotland's top restaurants. There are 16 luxury bedrooms and five spa suites with private garden and hot tub, as well as two garden cottages, each with two bedrooms, gardens and hot tubs. If you would prefer more privacy, the Hilltop Reserves have large balconies and hot tubs overlooking Loch Linnhe and there is also Arnott's House, Eriska's three-bedroom self-catering option. There is also a range of on-site activities including croquet, guest bike rental and golf on a small adjacent six-hole golf course. Further activities can be pre-arranged onsite including archery and clay pigeon shooting.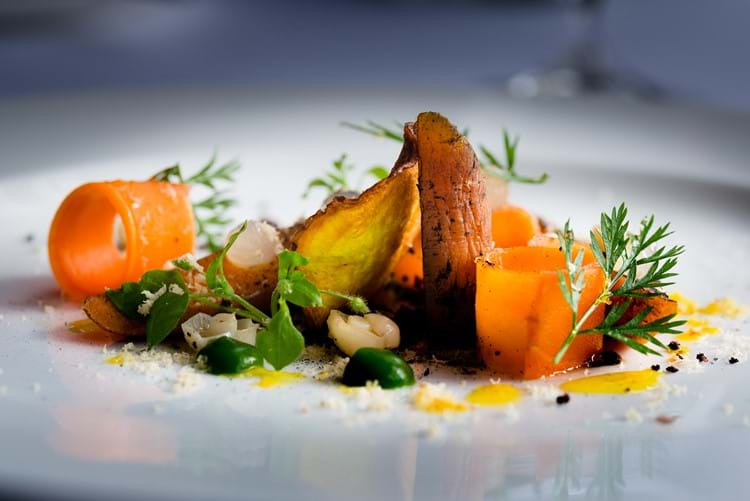 Dining at The Isle of Eriska Hotel, Spa and Island
There are several dining choices including a gourmet three-course dinner and an outstanding tasting menu with paired wine flights – their famous wine list runs to 20 pages. The culinary team has created imaginative dishes using fresh local produce and ingredients. A highlight for diners is the famous Farmhouse Cheese Trolley. One of Scotland's finest, it includes a wide range of local Scottish and other British cheeses. For a more informal option, their Deck Restaurant offers a relaxed menu with beautiful views overlooking the loch.
Just north of Fort William, a region considered the outdoor capital of the world, is Inverlochy Castle Hotel. An impressive 19th-century castle with an enviable lochside location, Inverlochy is nestled in the foothills of Ben Nevis, Scotland's highest mountain. The Castle is surrounded by some of Scotland's finest scenery and attractions including the Falls at Glen Nevis, the Glenfinnan Monument and the mountains of Glencoe. During a Highland vacation in 1873, the young Queen Victoria spent a week at Inverlochy sketching and painting. In her diary she wrote: 'I never saw a lovelier or more romantic spot'. Each of Inverlochy's 17 bedrooms and two bedroomed Gate Lodge has its own individual design and character, many with splendid views of the grounds and surrounding mountains. Beautifully appointed bathrooms, luxurious furniture and original antique furnishings reflect the tranquil atmosphere of a bygone age.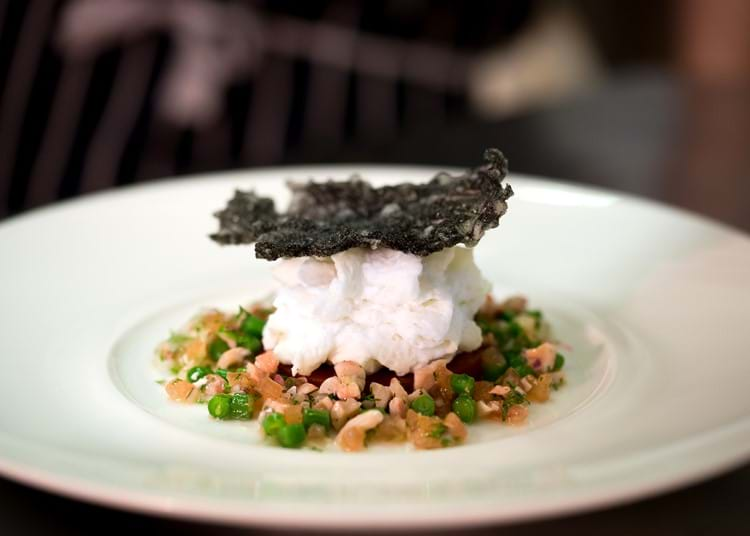 Dining at Inverlochy
Dining at Albert and Michel Roux Jr at Inverlochy Castle is a culinary experience to savour, with the legendary father and son taking the helm of the kitchen and creating the finest dishes using local Scottish produce. Each of Inverlochy's three dining rooms is decorated with period and exquisite furniture presented to Inverlochy Castle by the King of Norway. The internationally praised menus feature modern British cuisine with French influences.
The Torridon

The Torridon enjoys one of the most spectacular and idyllic locations in the Scottish Highlands. Guests can expect gourmet dining and exemplary Scottish hospitality at this coastal hideaway on the shores of Loch Torridon. Whether you wish for a reviving outdoor escape, a relaxing getaway or a pampered spa break in a luxury hotel, Torridon aims to deliver each guest that exclusive luxury with a personal touch. There are 18 luxurious en-suite bedrooms with views of an ever-changing Highland scenery where guests will discover adventure and explore the wilderness at Torridon Activities – one of the best multi-activity providers in Scotland.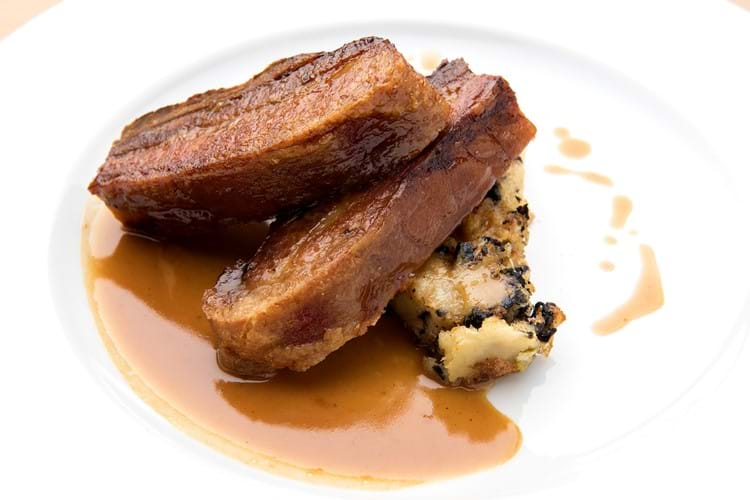 Dining at The Torridon
Before dinner at The Torridon Hotel, we recommended a glass of Arcturus, Torridon's very own gin which was conceived from foraging local highland botanicals. Blended with pure Scottish loch water, it is distilled and bottled by Luxury Scotland partners Dunnet Bay Distillers to produce an aromatic, crisp, clean gin with a dry finish. The Torridon restaurant will treat you to a showcase of the freshest Scottish produce, much of it grown and gathered from the kitchen garden and Torridon estate.
Our Journey along Scotland's west coast has covered only eight of Luxury Scotland's member hotels. We hope you have been tempted to explore further and enjoy a short break at one of these hotels. Look out for more articles on the great golf hotels, magnificent city hotels and a range of superlative exclusive use properties.
First published 23 July 2019. Information correct at time of going to press.