Dunnet Bay Distillers
The aim of Dunnet Bay Distillers is to create spirits which reflect the unique life and landscape to be found in Caithness. Each bottle is filled, hand-waxed, batch numbered and signed before it leaves the Dunnet Bay Distillery.
Each year will herald a new vintage at Dunnet Bay Distillers. As with fine wine, the regional Caithness botanicals are dependent on climate. The result is a truly handcrafted Scottish gin and Scottish vodka that will subtly change year on year but which will always be the result of patience and perfection from the young team at the distillery.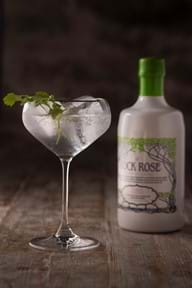 What to Expect
Holy Grass Vodka
Holy Grass, found on the banks of Thurso River, gives this unique Vodka its wonderful taste and characteristic flavour. This is a delicate, fresh tasting vodka with a creamy smooth finish.
Rock Rose Gin
This delicious Rock Rose Gin gets its characteristic flavour from a carefully selected combination of local and traditional botanicals, each one specifically chosen for their individual flavours to combine into the perfect taste.