Ten unforgettable culinary experiences in Scotland
Scotland is teeming with tasty treats to be found in all manner and variety of settings: where else could you take afternoon tea court-side, or devour produce direct from the hotel's very own farm? If you're a foodie, we've a decadent forkful for you.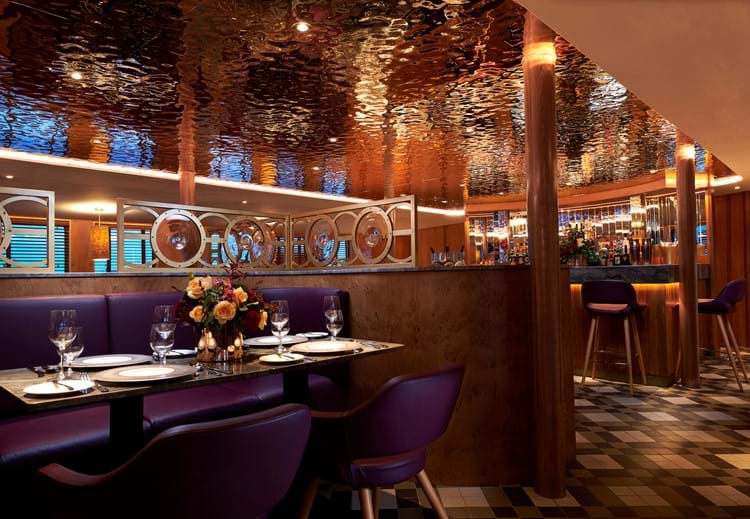 1. Dine on board a ship at Fingal, Edinburgh
Ahoy there! For the ultimate nautical eatery, embark on Fingal, a working ship turned lavish floating hotel located in Alexandra Dock in Leith. Settle into the Lighthouse Restaurant, awarded 2-star AA Rosettes for culinary dining, and drink in the spectacular vistas from the vast floor to ceiling windows. Book a table for lunch, afternoon tea, dinner or cocktails and expect moreish salmon, smoked on board the ship, sommelier-selected wines and buttermilk scones served with Perthshire preserves and washed down with champagne. Why not combine your visit to Fingal with a tour of the Royal Yacht Britannia, Fingal's sister ship?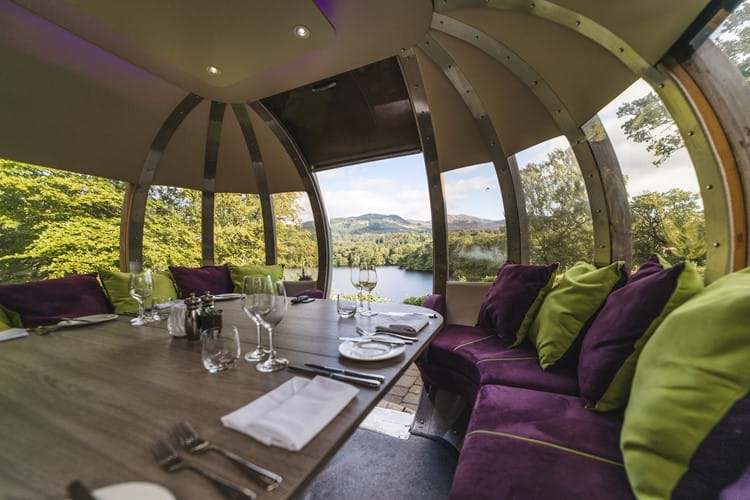 2. Make a meal of it in your own private pod at Fonab Castle Hotel & Spa, Pitlochry
If alfresco dining is your idea of a good time, but the Scottish weather has 'rain on your parade' at the top of its to-do list, Fonab Castle Hotel & Spa's dining pods, situated within the grounds, are the ideal compromise. The sweet spot between immersing yourself in nature and shielding from the changeable climate, the cosy pods command stunning views over Loch Faskally. Make yourself at home by adjusting the heating, mood lighting, and personal music system, all while a dedicated host takes care of everything else. The pods provide an intimate relaxing space for drinks receptions of up to 12 of your nearest and dearest, or breakfast, lunch, afternoon tea or dinner parties for up to six guests. Inside tip: order the Orkney scallop and Alphonso mango mousse for a real taste sensation.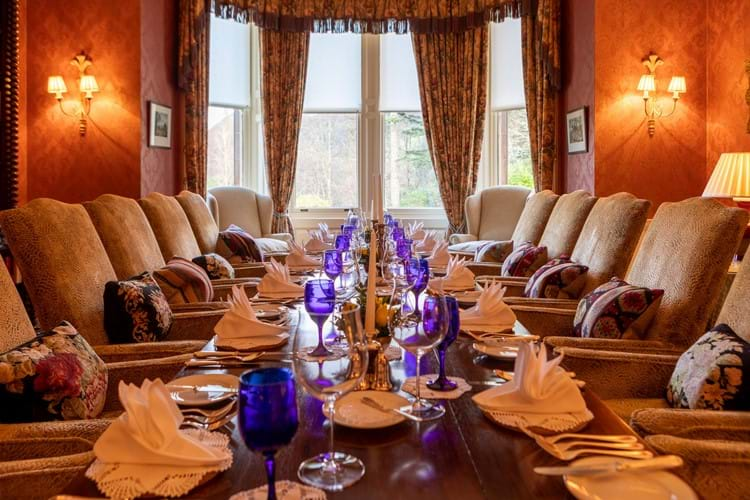 3. Pull up a chair around the Mary Shaw Table at Inverlochy Castle Hotel's Seasgair, Fort William
Inspired by the history of one of Scotland's most exclusive country house hotels, Seasgair is an innovative interactive dining experience based at the five-star Inverlochy Castle Hotel and the brainchild of two-star Michelin chef, Michel Roux Jr. The acclaimed chef was enamoured by anecdotes from a time when the castle was the private residence of Mrs Hobbs. Her celebrated cook Mary Shaw would devise an entirely new menu each night for the family to enjoy together. 
Here, in that same spirit, canapés and dishes are theatrically prepared right in front of you, and sharing platters are served on showstopping traditional silver. And if exclusive is what you're after, the menu features foods from producers neighbouring the castle that aren't available anywhere else. Talk about locally sourced!
As well as individual tables in the dining room, the castle has gone one step further and introduced the Mary Shaw table: an impeccably designed, large wooden table nestled within the library, where you can gather with your loved ones and learn more about the ingredients selected directly by the chef, as you sample each intricately crafted dish.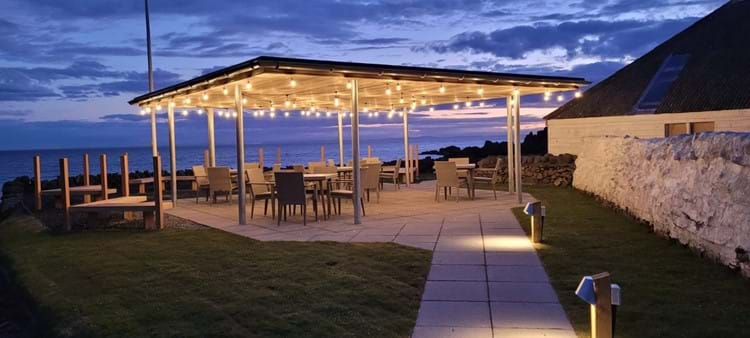 4. A BBQ by the sea at Knockinaam Lodge, Portpatrick
Is there anything more captivating than gazing out to sea, wind whipping at your hair? How about knowing you're (just about) the only soul there? Overlooking the Irish Sea and its own private coastline, Knockinaam Lodge's outdoor lounge, The Cove, serves up hearty roasts, fresh fruits and vegetables harvested from the hotel garden, locally caught seafood and luxury BBQ dishes, grilled to perfection in The Cove's Big Green Egg barbecue. As the menu is seasonal, no two experiences are the same – the perfect excuse to visit time and time again.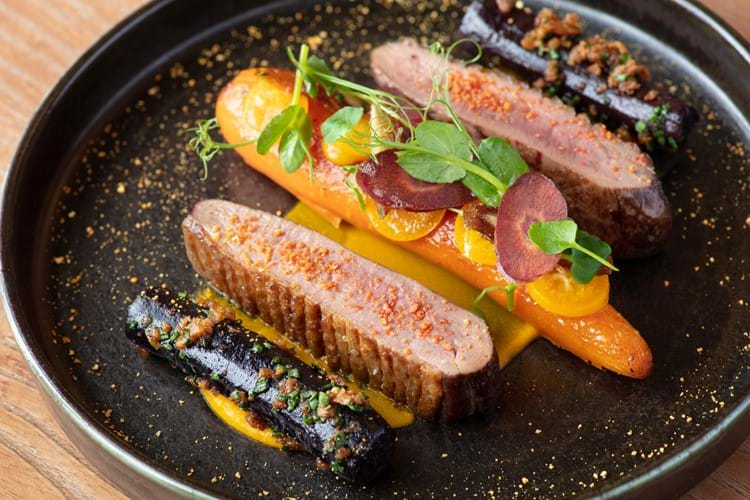 5. Fine dining by the fairway at Murrayshall Country Estate, Perthshire
Murrayshall Country Estate's Eòlas restaurant (pronounced o-lass) is Gaelic for 'experience,' and what an experience this is. Refined, modern Scottish cuisine, with an emphasis on quality, seasonal food and local Perthshire producers, is the dish of the day at Eòlas, recently awarded Best Boutique Hotel Restaurant in the UK at the Boutique Hotelier Awards. Think plates like homemade gnocchi and Highland venison, chased with honey meringue and blood orange crème brûlée. The main selling point, however? The seasonal menus change every six weeks to keep you on your toes – and hungry for more.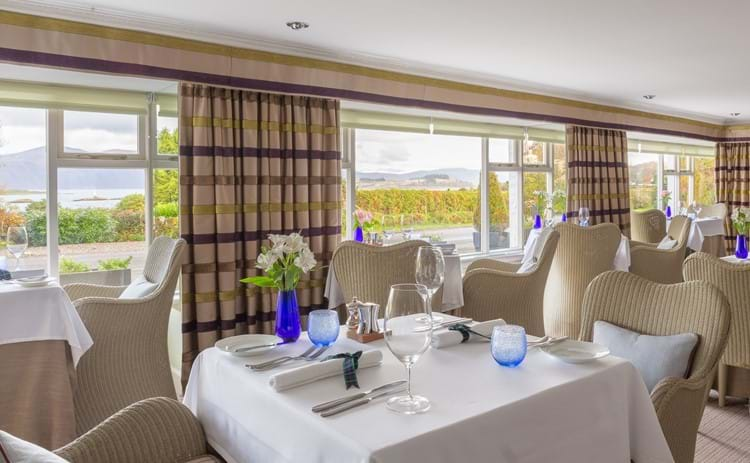 6. 3 AA Rosette dining at sunset over Loch Linnhe at Airds Hotel
Airds Hotel's discerning executive chef Calum Innes specialises in shellfish, and, as such, his quality standards are unyielding – fortunate, then, that some of the best catch in Scotland can be found right on his doorstep. This, together with the boutique hotel's selection of renowned meat and game dishes, is what has led to his seasonal dinner menu achieving Michelin recommendation and on first bite, it's not difficult to see why. With the sun sinking into Loch Linnhe as your backdrop, take your pick from succulent prawns and scallops to monkfish and Argyll venison, or venture out into the garden for a full afternoon tea or early supper.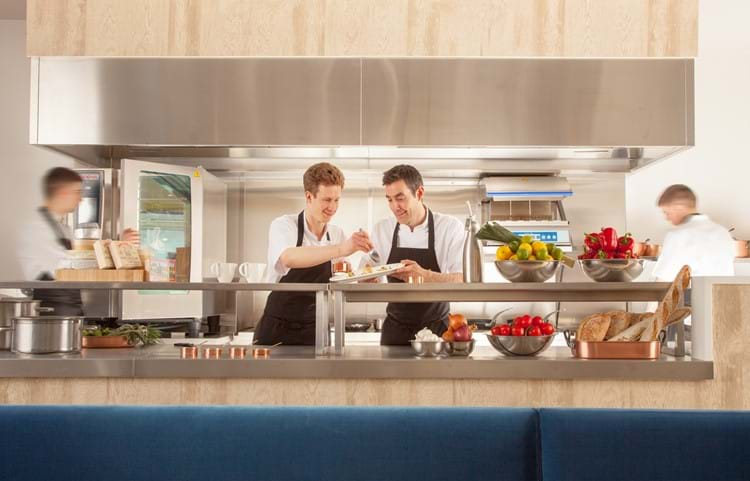 7. Authentic cuisine neighbouring Andy Murray's Wimbledon colours' tennis court at Cromlix, Stirlingshire
Housed in a verdant, botanical glass-walled conservatory overlooking the gardens, The Glasshouse restaurant at Andy Murray-owned Cromlix grants a ringside view of the chefs at work in the extensive open kitchen and a glimpse of Murray's tennis court.
The rich, wild flavours of Scotland are laced through locally sourced, thoughtfully prepared courses, while an attentive, brasserie-style service means you're never left wanting for a top-up. Executive head chef Darin Campbell encourages his talented team to use classic cooking methods, honed and perfected over decades, with each carefully curated menu his personal vehicle to showcase the best of the seasonal Scottish bounty.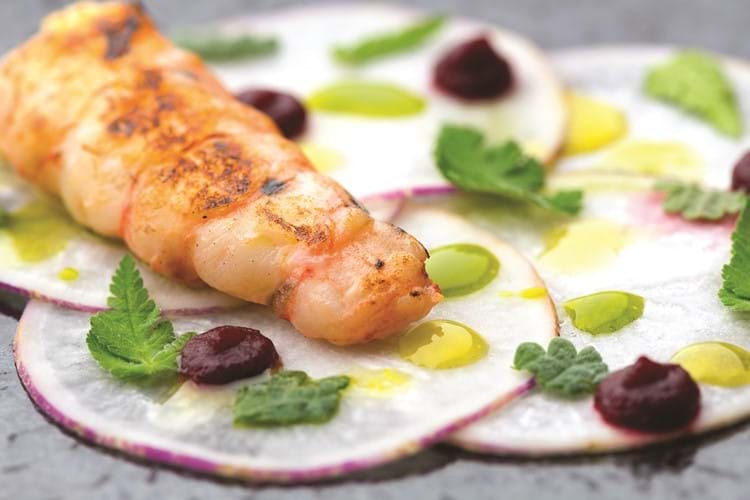 8. True farm-to-fork dining at The Torridon, Wester Ross
There's local produce and then there's The Torridon: this idyllic west coast gem has its own farm, where Highland cattle, chickens and Tamworth pigs roam and graze free. The cattle and pigs are reared for their meat, which are served in both the resort's 1887 restaurant and Bo & Muc brasserie respectively. Whether you order the delicious Highland beef burgers, a not-so-humble steak and ale pie, or a mixed plate of Tamworth pork, provenance is paramount, and the quality is palpable. And if you're not a meat lover? The Torridon's fruit and vegetable garden, and resulting fare, is equally impressive, extending to two acres and expertly cared for year-round. How about that for living off the land?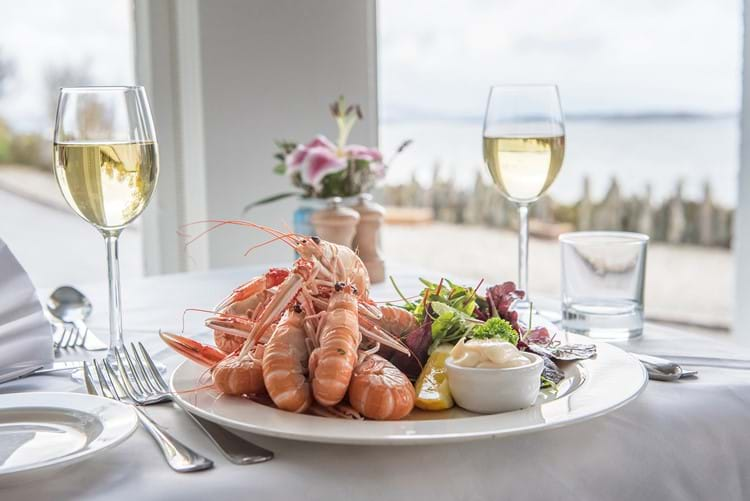 9. Seafood to savour by the canal at the Crinan Hotel, Argyll
Thanks to its canal-adjacent location, at the charismatic Crinan Hotel near Lochgilphead, you can actually watch as the Michelin-recommended restaurant's freshly caught seafood makes its way from fishing boat to hotel kitchen. The jumbo prawns (or langoustines) are landed a mere 20 metres away on the quay at 5pm – just in time for dinner. It doesn't get much fresher than that! They're also a key ingredient in the hotel's signature dish, Jumbo Prawns Corryvreckan, named in tribute to the second biggest whirlpool in the Western Hemisphere based nearby, which can be heard from the Crinan on a still night. Its medley of prawns and tropical fruit is inspired by a feast that the hotel's owner came across on a visit to Pitcairn Island.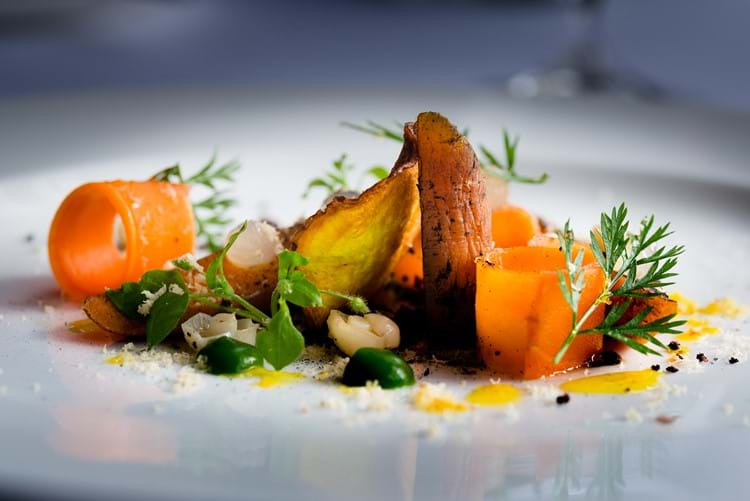 10. A flavourful journey on a private island at the Isle of Eriska Hotel, Spa and Island
The definition of escape, the Isle of Eriska Hotel is serene in its seclusion, occupying its very own island at the mouth of Loch Creran in the heart of West Argyll. Make tracks to its new restaurant, At The Deck, which opened in April 2023 with the goal of championing local Argyll and Bute produce and acting with sustainability and seasonality. There you'll be greeted with an exclusively prepared tasting menu for your visit and enveloped by views of the Morvern peninsula and Loch Linnhe. Look forward to a smorgasbord of the west of Scotland's finest ingredients, including herbs and vegetables grown in the hotel's kitchen garden, honey from the apiaries and other elements foraged from the island. Meat is also sourced from surrounding farms, while any seafood comes directly from the nearby lochs, islands, and coasts.
All information correct at time of publication.