From sprawling sea lochs to peaceful sheltered bays
While diving into Scottish waters may sound like a chilly prospect, wild swimming has gained a number of loyal followers across the nation in the last year.
As well as offering an opportunity to really immerse yourself in incredible beauty spots, the sport has a number of proven benefits. Cold water swimming has been linked to better circulation, increased metabolism and a boosted immune system. It also increases adrenaline and endorphins, providing a thrill and leaving you feeling happier.
If you want to make a splash this summer, these are some of the most beautiful places to swim in Scotland.
Loch Lomond
The bonnie banks of Loch Lomond offer numerous places to go for a swim. Scotland's largest freshwater loch is fringed with sand and pebble beaches, so it's easy to access the water. Firkin Point on the western shore is a popular spot for a dip. It has a long shoreline so you can easily find your own private spot, while the shallow edge makes it easy to get acclimatised. When it's time to dry off, you'll find the tastefully restored Cameron House Resort and Lodges nearby. If you're in the mood for more water therapy you can indulge in the hotel spa's hydrotherapy circuit.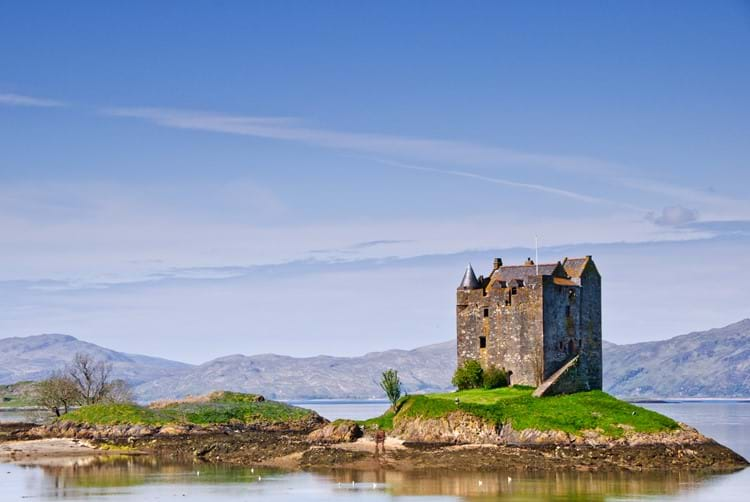 Castle Stalker
Located just north of Oban, the imposing Castle Stalker sits on its own tidal island in the bay of Loch Laich. Swimming the calm, shallow waters around the castle is a truly unique experience. The building is privately owned, but daily tours are available from April to September with prior appointment. When it's time to turn in, head to The Airds Hotel – just eight minutes' drive away. This converted 18th Century ferry inn boasts beautiful waterside views over Loch Linnhe, and has an outdoor terrace where you can warm up with a hot cup of tea.
Loch Torridon
With its deep, calm and salty waters, Loch Torridon, (featured in the main image), in Wester Ross, is a soothing spot for wild swimming. It's also a lovely place to get back to nature, with wildlife like sea eagles, herons and seals joining you for your dip. If you're staying at The Torridon Resort, you can hire a wetsuit, thermal hat and buoyancy aid. The oak-panelled drawing room, with its roaring log fire, is the perfect place to warm up afterwards with a dram from the collection of 365 malt whiskies. 
Wardie Bay
You don't need to head out into the wilderness to enjoy wild swimming. During lockdown, Edinburgh residents have been heading to the sheltered Wardie Bay on the north side of the city. The tiny stretch of beach is sheltered by Granton Harbour and gently slopes into the sea. It feels wilder than the popular Portobello, with dolphins and seals often spotted off the coast. Just a short hop from the city centre, it's urban wild swimming at its best. You'll find Scotland's first luxury floating hotel, Fingal, just along the coast in the trendy Shore area. After drying off head to the cocktail bar and watch the lights of the vessels come and go from Leith docks.
Gullane Bay
With its crystal clear water and long stretch of golden sand, Gullane Bay is one of many incredible beaches in East Lothian. It's a wonderful spot for wild swimming, with fairly sheltered waters that sometimes play host to dolphins and minke whales. There are also rock pools to paddle in, sand dunes to run along and secret caves to discover. It's just a short wander from Greywalls Hotel, where you can bundle up in a fluffy bathrobe after your swim before enjoying a fine dining meal at the on-site Chez Roux restaurant.
Allt Daraich
The vibrant turquoise hue of this swimming hole in Skye is irresistible. Clamber up the rocks, let the rush of the waterfall massage your back, or simply float and enjoy the incredible views of the Cuillin mountain range in the background. Wonderfully secluded and fairly shallow, it's the perfect place for a private dip. Afterwards, head back to Kinloch Lodge on the shores of Loch-Na-Dal and nestle yourself in the bar with a warming drink, as you enjoy the views across the mirror-calm waters.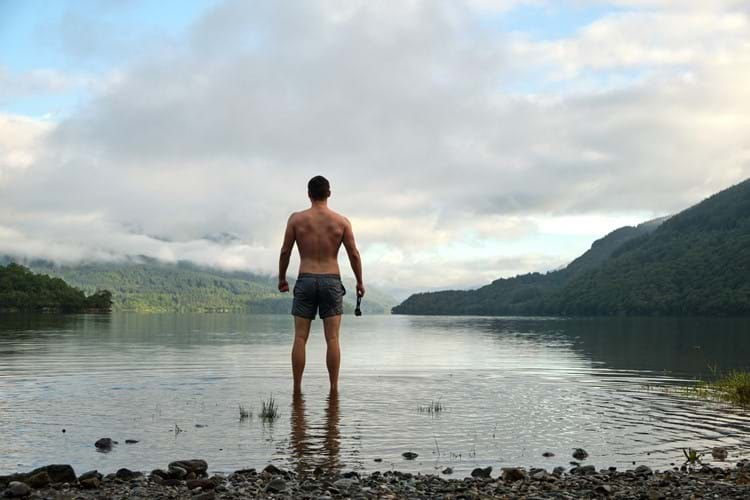 Higher Glen Etive
Dramatic views of Glen Coe, a selection of calm river pools and easy road access make Higher Glen Etive a popular spot for wild swimmers. The rocky edges are perfect for holding onto, so you can relax and feel the river flow around you while you enjoy the wide open skies and soaring mountains. If you're feeling brave (and are already acclimatised to the cool) the banks are also great for jumping in. Warm up afterwards with a stay at Glencoe House, where suites have their own private hot tubs to soak in and roaring log fires to lounge beside.
Top tips for wild swimming novices
If you've never tried wild swimming before, there are a few things to bear in mind:
Bring someone along. Like any outdoor activity, there's safety in numbers. If you can't convince any of your travelling companions to come for a dip, look for local groups on Facebook and tag along.
Don't overestimate how far you can go.Range and ability is reduced when you swim in cold water. The low temperature causes muscles to contract. Assume you can swim about one-tenth of the distance that you would in a heated pool.
Dress appropriately. A wetsuit can help to protect you from the worst of the chill, while a brightly coloured swimming cap will keep you visible to other swimmers and people on the shore.
Acclimatise slowly. Jumping straight in can result in cold-shock – an involuntary gasp and rise in heart rate. This can be dangerous if it happens underwater, so wade in slowly at first and let your body get used to the temperature.
Warm up quickly. Swimming in cold water can sap your body heat and cause mild hypothermia. If you feel shivery and your teeth are chattering, get out of the water and into some warm dry clothes. Do some star jumps to get your blood moving, and bring a flask of hot sugary tea to sip.
You can read more safety tips on the Wild Swimming website.