AN INTERVIEW WITH ISABELLA MACDONALD
Q&A at Kinloch Lodge
Today, the majestic Kinloch Lodge on the Isle of Skye is a family-run hotel and restaurant. But it wasn't always this way. We sat down for a chat with Isabella Macdonald, the owner of Kinloch Lodge, and discovered the remarkable story behind this rather special place.
Tell us about the history of Kinloch Lodge?
Kinloch Lodge was built in 1676 as a farmhouse on Sleat, the southern peninsula of the Isle of Skye. It was converted into a shooting lodge for the Macdonalds of Skye in the 18th century, then became a place of respite.
In 1972, following the death of my grandfather, my father Godfrey, Lord Macdonald and High Chief of Clan Donald, converted it into a hotel with my mother, Claire (a food writer and cook). It was here that my siblings and I, and countless beloved dogs, were raised.
In the intervening years, the Lodge has undergone a number of changes, not least the new rooms in the South Lodge. There are now a total of 18 rooms, with three of them suites.
What were the challenges your parents faced in the early years?
Oh, there were countless challenges! In many ways my parents were the pioneers of luxury hospitality in the Highlands. Though saying that, some of their recollections are unprintable! One common challenge in the early days involved the hotel's water pipes. Kinloch's water comes directly off the hill, so has a distinctive brown peat hue, and in the Scottish winters the pipes would frequently freeze cutting off water for our guests. My Dad made endless trips up the hill in the middle of the night with a Thermos flask, doing his best to get the water flowing again.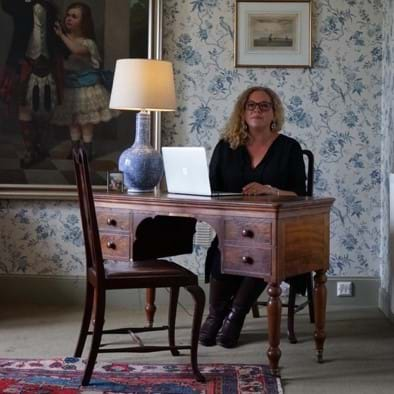 What were your experiences of growing up in the hotel as a child?
It was fantastic! At the time, we lived in rooms that were just off the reception, so we were always in contact with the guests. Many of the guests would return year after year, so my sister and I became good friends with them. It's amazing to think that we would go and sit on their beds and chat with them – it's very different now, of course! My own boys are still an integral part of the Kinloch family, and when they were growing up, they earned their pocket money by working at the hotel, just like me.
How are you celebrating the Golden Anniversary?
We have introduced a new Golden Anniversary Package that offers a distilled essence of what we think makes Kinloch Lodge so wonderful. Over three-nights, guests will try to spot golden eagles with our ghillie, learn foraging and bushcraft skills, sip a dram or two on Torabhaig Distillery's tour and enjoy stunning food from our head chef, Jordan. It offers a very real sense of place and of celebration, that we think people will love.
We are also publishing a 50th anniversary cookbook this autumn, full of recipes and stories celebrating five decades of our hotel and restaurant, which can be pre-ordered here.
What do you think makes Kinloch so special?
A good question! It's somewhere to escape the noise and speed of modern life. Somewhere to relax and recharge, where our guests can take things at their own pace. I think guests know, as they have done for the last 50 years, that when they step through Kinloch's door they will be warmly welcomed like family.
But it's the food that's the crowning glory of the Kinloch experience, and something we take extremely seriously. We are rooted in our heritage and in our community through the culinary bounty that Skye provides. Our commitment to sustaining our spectacular, yet fragile ecosystem is at the heart of everything we do, be it our kitchen garden and polytunnels, our extensive list of biodynamic and organic drinks, or our natural spring that provides fresh filtered water to all of our guests.
We are proud to work closely with so many wonderful local suppliers on Skye, from small-scale fishermen to local distilleries and weavers. What's wonderful is that I'm now working alongside producers whose parents worked with mine when Kinloch first started. We have all grown up together