Your insider guide to Edinburgh
Get away from mainstream and mingle with the locals
Step off the beaten track and immerse yourself in some of the cities hidden gem experiences. We've asked three of our Edinburgh hotels to share their top tips of intriguing places that will take you away from mainstream tourism and let you mingle with locals in the know.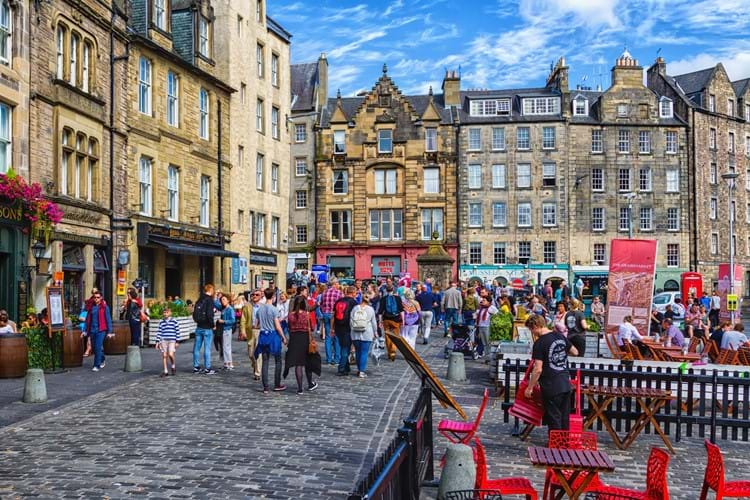 Grassmarket
Great Food & Drink
Come rain or shine, a visit to Edinburgh is not complete without a trip to Mary's Milk Bar on the Grassmarket for delicious ice cream in the most inventive flavours including Tea & Jam, Orange Chocolate Sorbet and Cherry & Cinnamon
If you've got a sweet tooth, head to The Fudge House on the Royal Mile. Established in 1949, The Fudge House hand makes up to 27 flavours of fudge each day, offering everything from traditional vanilla and rum and raisin to unique flavour combinations like chocolate peanut butter, highland cream and lemon meringue pie.
The Edinburgh Chocolatarium is Edinburgh's version of Willy Wonka's iconic chocolate factory. Find out where cocoa beans are grown and transformed from the bitter seed of a jungle tree to the smooth, velvety treat we all love. Make your own chocolate, try your hand at different flavours and taste up to 30 chocolates from more than 15 Scottish and international chocolate makers. Yum
Healthy eating does not need to be boring! Hula Juice Café in the Grassmarket serves a huge selection of good-for-you dishes like acai smoothie bowls, avocado toast and green juices. The café is environmentally conscious too – a plastic free zone.
For an energy boosting lunch packed with flavour, visit Bross Bagels and tuck into Montreal style bagels packed with NYC deli inspired fillings. They have shops in Stockbridge, the West End and Leith.
Special Mention Shopping
Jane Davidson on Thistle Street is one of Edinburgh's most loved designer stores. Featuring both classic and niche brands, some of which you can't get anywhere else in the city, Jane Davidson is the place to go for the most stylish clothes and accessories. They also provide a personal shopping service to help you find the perfect gift for a loved one, or even a little treat for yourself.
Golden Hare Books was named Independent Bookshop of the Year in the 2019 British Book Awards. This bookshop in the picturesque Stockbridge area of Edinburgh is a must-visit for any book lover. The shop is designed to have as many outwards facing books as possible, making it easy to find your favourite author and stirring your curiosity during every visit.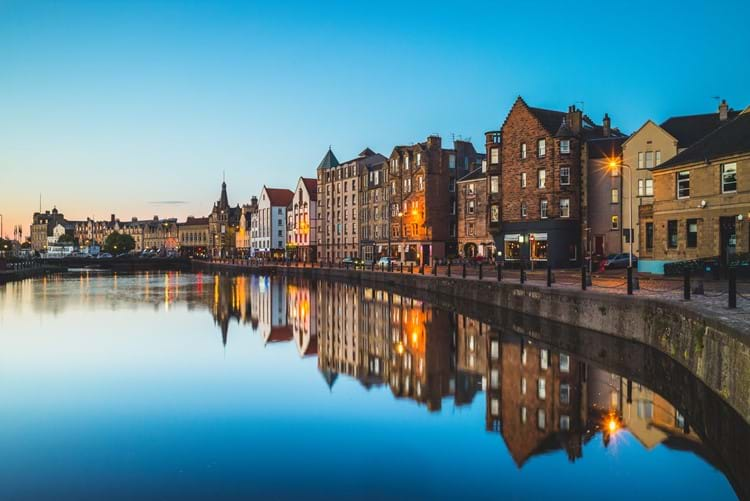 Leith Waterfront
Located in the city's trendy Leith area, you'll find a collection of independent, inspirational shops, including textile and design company, Araminta Campbell Ltd, which specialises in handwoven alpaca accessories including scarves, shawls, wraps and cushions.
Another Leith shopping jewel is designer menswear store, Kestin Hare. This highly successful brand was created by Kestin in 2015 with a vision for providing the highest quality garments for everyday wear.
For dedicated foodies, Leith Market takes place every Saturday from 10am to 4pm at Dock Place, with a special Vegan Quarter on the first Saturday of every month.
Walking with Purpose
Step down into history at The Real Mary King's Close and explore Edinburgh's only preserved 17thcentury street, while learning fascinating tales of plague, pestilence, murder and intrigue from your guide on this unique tour experience.
Alternatively, book a history walking tour that unveils treasures of the old town and ghostly secrets of the city's Royal Mile with Mercat Tours.
Loved by visitors and locals alike, The Royal Botanic Garden Edinburgh is over 350 years old and a world-leading plant science, conservation and education centre. Comprising over 70 acres, the gardens are within walking distance of the Dunstane Houses and offer an unrivalled view of the city's skyline.
Explore the Old Town. Start at The Vennel, just off the Grassmarket, which offers one of the best viewpoints of Edinburgh Castle. Make your way up to the Castle Esplanade to check out the 360 views of the city and then continue your walk down the Royal Mile. Enjoy a refreshment in a traditional Scottish pub or explore Edinburgh's original closes.

Calton Hill
Take a short - but steep - walk up Calton Hill and you will be rewarded with spectacular views of the city, Arthur's Seat and Edinburgh Castle. On a good clear day you can even enjoy views over to the Bridges and the Kingdom of Fife.
Soak up nature and take a walk along The Water of Leith, home to herons, kingfishers and carpets of flowers.
The walkway passes through some of Edinburgh's most beautiful landmarks, including Colinton Village and Colinton Dell, a wildlife refuge, The Scottish Gallery of Modern Art, and the historic Dean Village.
The route is suitable for walking and cycling and some parts are accessible by wheelchair.
These unmissable Edinburgh insights came from three Luxury Scotland Edinburgh hotel members, including Laura Duncan, Marketing Manager at Sheraton Grand Hotel & Spa Edinburgh, Shirley Mowat, the Owner of Dunstane Houses and Fiona Strauss, at Fingal.