Try a completely new dining experience
One-of-a-kind dishes in a castle setting
Two-star Michelin chef Michel Roux Jr. has shaken up the Scottish food scene with the launch of an exciting interactive dining experience, inspired by the history of one of Scotland's most exclusive country house hotels.
'Seasgair' by Michel Roux Jr. has launched at the five-star Inverlochy Castle Hotel near Fort William in the Scottish Highlands, and has seen the acclaimed chef take inspiration from a time when the castle was occupied as a private home by Mrs Hobbs, and her celebrated cook Mary Shaw would create a new menu each night for the family and guests to enjoy together. 
Gaelic for cosy, warm and comfortable, 'Seasgair' is a theatrical affair, with chefs preparing and serving canapés and dishes in front of guests, sharing platters and showpieces presented on traditional silver, fine bone china and crockery crafted by local potters. Dishes are presented as an entirety, with some served up at table rather than plated, in a nod to how Mary Shaw preferred to serve.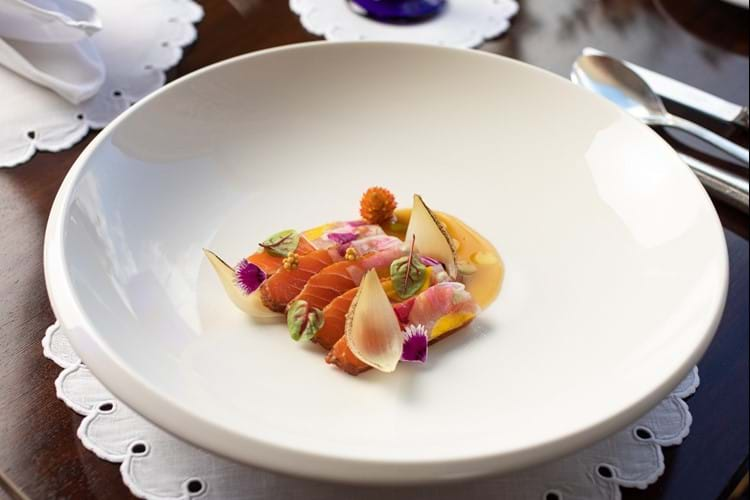 Guests dine in just one sitting each evening and are transported back in time by five carefully devised dishes created with passion and flair, each with a story to tell and using the finest seasonal ingredients recommended by professional artisans.
The menu has a hyperlocal focus including foods from producers neighbouring the castle that aren't available anywhere else. Everything is overseen by Inverlochy Castle's head chef Coalin Finn, who recently joined the team and has been working closely with Michel Roux Jr. in bringing the concept to life. Having trained under the likes of Gordon Ramsay and with experience in fine dining restaurants around the world, he brings an exceptional amount of talent to the kitchen.
While the menu changes with what's available and in season, a taste of what to expect includes wild boar charcuterie produced just seven miles from the castle, Highland venison wellington to share and seafood extravaganzas including Scottish oysters and shellfish.
Michel Roux Jr. said: "Our goal is for everyone who enters the dining rooms to leave with a taste of how the castle would have been when the kitchen was run by the extraordinary woman that was Mary Shaw. We've taken Mary's ethos and created an experience that showcases the best of what's seasonal in creative and compelling ways, with each course a new discovery and surprise. Mary was an incredibly gifted and passionate cook, so it's fantastic to continue her legacy for guests to discover something completely new."
As well as individual tables in the dining room, to further enhance the experience, the castle has also introduced the Mary Shaw table, an impeccably designed large wooden table nestled within the Library. Here, guests can meet and learn more about the ingredients selected directly from chef Coalin while they savour each dish.
The dining experience is priced at £125pp, including canapés, a five-course menu, petits fours with tea and coffee and a bespoke welcome drink from Inverlochy Castle's world-class sommelier. Guests should advise Inverlochy Castle of any allergies or dietary requirements in advance and a bespoke menu will be created.
For more information, visit the hotel website here.