In conversation with Jane Watson
A highland hospitality hero
This month, we caught up with Jane Watson, the General Manager of Inverlochy Castle near Fort William. Having spent over 40 years working at Inverlochy, Jane knows a thing or two about this 19th-century castle's history – and shares some exciting new developments that promise to shape its future...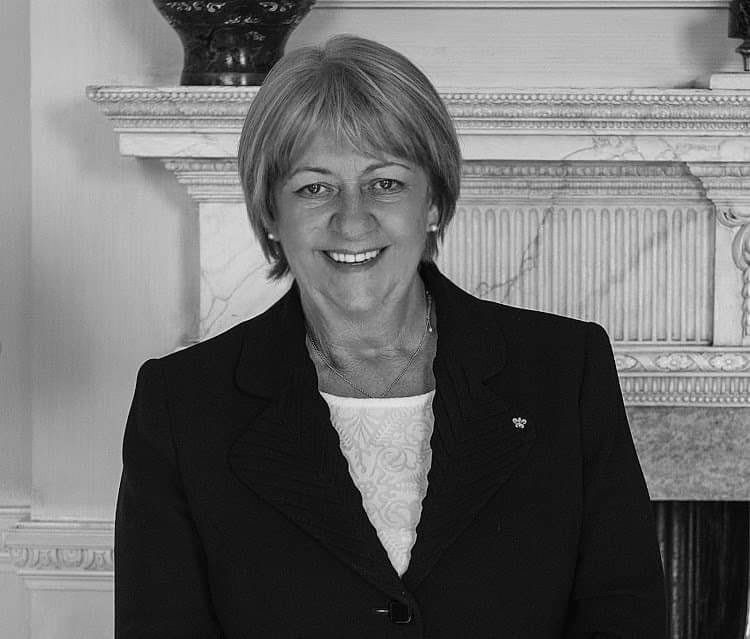 How did your journey into hospitality develop, Jane?
My mother and mother-in-law both worked in the laundry at Inverlochy Castle. At 19 I joined them part-time, as I was a mother to two young girls. As the years progressed, I moved into housekeeping, the restaurant, and then into management when the girls became teenagers and I felt I was able to commit more time to the role. 
Eventually, I became the hotel manager and Inverlochy became home. I simply loved spending time with guests, hearing their stories, and sharing my own. It always felt more like a private home and not a hotel, and I tried every day to ensure this feeling was conveyed to our guests. I believe this is the main reason for Inverlochy's success. While it's a Scottish castle and situated in a wonderfully stunning area, it's the feeling of being at home, of the staff providing a formal but intimate and personal service that keeps the guests returning year after year. 
Can you tell us a little about Inverlochy Castle and its history?
In 1840, 13-year-old William Frederick Scarlett, accompanying his father, Robert (a London lawyer), bought the Inverlochy Estate from the Marquis of Huntly. At the time, the estate spanned thousands of acres up the Great Glen, and up Ben Nevis. In 1863, William began construction of a baronial castle, designed by London architect George Hesketh, which was to become today's Inverlochy Castle.
In 1873 Queen Victoria made a trip to the west of Scotland to see Glencoe. She came to stay at Inverlochy Castle for a week's painting and sketching, and remarked, 'I never saw a lovelier or a more romantic spot'. She kept a diary and wrote on the first morning of her visit 'Mist on all the hills and continuous rain, most disheartening.'
In 1946 Joseph Hobbs from Vancouver bought the castle and estate. He and his wife moved into Inverlochy Castle and made it their family home. In 1963, his son Joseph Hobbs, Jr, inherited the estate with his wife, Grete. In 1969, Grete turned the castle into one of the earliest country house hotels in the UK. It quickly becomes a bastion of luxury, distinguishing itself with its cuisine. It was seen as uniquely romantic being in the wilderness of Scotland. Within three years it had been awarded the Egon Ronay Hotel of the Year award.
Its reputation as one of the UK's best hotels never waned, and the hotel was frequented by royalty, Hollywood A-listers, heads of state, and other distinguished guests. In 1989, Mrs Hobbs was awarded Hotelier of the Year by the industry's leading magazine, The Caterer.
In 1996, Mrs Hobbs retired, and the hotel was put on the market. Inverlochy Castle was bought by Malaysian businessman, Mr K C Chai, who embarked on a lavish programme of upgrading. There followed a string of accolades, including US Travel & Leisure Magazine's Best Hotel in Europe and reaching number four in the Best Hotels of the World list.
In 2009 senior management at the hotel established Inverlochy Castle Management International (ICMI), a hotel and hospitality management company that today operates and runs a string of prestigious properties in Scotland.
Sadly, Mr Chai passed away a couple of years ago but the castle stays within the family trust and with the people who love it.
Inverlochy Castle is located beside Fort William. What is there to see and do in the area?
Fort William is stunning. Classed as the outdoor capital of the UK, there's so much to see and do within a short drive. You can even base yourself here and explore the Highlands. 
At the castle there are activities on the grounds like archery and clay pigeon shooting. Within five miles there's a host of forest and hill walks for all capabilities that allow you to see the magnificent views that Scotland is famous for - we even have the highest mountain in Britain on our doorstep!
There's also mountain biking, seal island cruises, the Harry Potter Steam Train and Glenfinnan Viaduct, to name a few activities. Visit the Loch Ness monster an hour away or a take trip to one of our stunning Scottish Islands - all possible on day trips.
You've just finished some exciting new additions to the hotel. Can you tell us more?
I've been at Inverlochy now for over 40 years and our old stables has been in ruins during all that time. Thanks to the vision of the owners, this building has been wonderfully restored into eight new rooms and suites that join our Victorian walled garden - which has also seen an overhaul. All the rooms have patios or balconies leading into the garden with outstanding views of Ben Nevis.
What do you enjoy most about living and working in Scotland?
There's something special about the Highlands; the history, the people and community, the pride we have in being Scottish and our roots. We are tough, strong and hardworking people who look out for each other.
Fort William has been a safe and loving place to bring up my children and grandchildren and provides them with a sense of freedom that you don't get many places these days.
What's the most unusual request you've had from a guest that you've managed to fulfill?
All I can say is I could write a book!